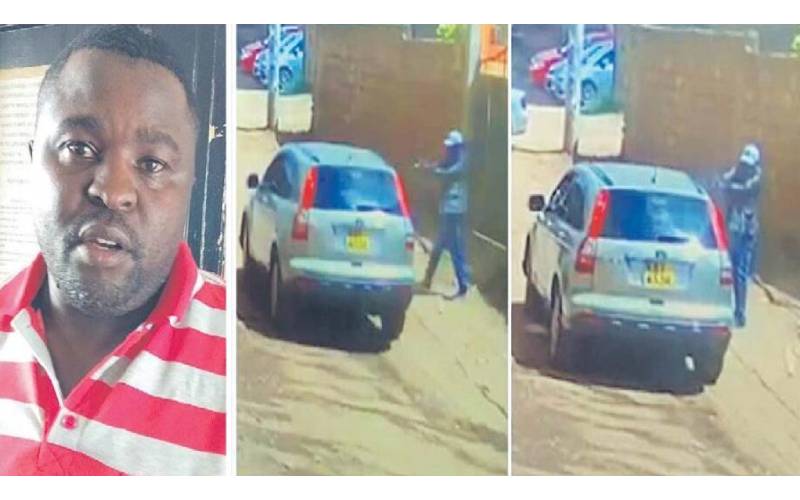 In her marriage that lasted more than 10 years, Ms Winnie Wambui, the wife of Mirema Drive murder victim, Samuel Mugota, never knew even one of her spouse's friends.
"When we met, he told me he was a former police officer. I never saw any pictures of him in uniform or at his workstation," Ms Wambui, 34, said in a police report filed at the Kasarani Police Station on Wednesday.
The details on Mr Mugota, who was shot multiple times while driving along Mirema Drive on Monday, emerged as three people whose IDs were found in the vehicle recorded statements with the police.
The three; a university lecturer, a Thika-based businessman and a resident of Roysambu, Kasarani constituency, said they were victims of drugging. Their IDs were among seven found in the Honda CR-V Mr Mugota was driving. According to the police statement, Ms Wambui never took interest in knowing more about Mr Mugota's professional life.
Another report by Mr Mugota's younger brother stated that the deceased was an ICT professional. Mr Mugota and his wife lived on Kenyatta Road, Kiambu County.
Mr Mugota never took alcohol, did not smoke and never allowed his wife to call or text him. "From the word go, he used to say 'nikikutaka, nitakutafuta (If I need you, I'll call you)," she said.
On Monday, May 16, Mr Mugota was shot six times after dropping a friend at Mirema Drive. His killer, a solo gunman, is yet to be tracked down.
Ms Wambui, who had three children with Mr Mugota, said she knew she was the second wife. The other wife had three children with Mr Mugota. The couple had another house in Mr Mugota's rural home in Laikipia East. Mr Mugota's other spouse from Machakos is yet to record a police statement.
The father of seven, including a child sired with a third woman, will be buried next week in Laikipia East. The owners of the IDs found in his car said they were stupefied at nightclubs within Kasarani and Kahawa West between May 14 and May 16.
The lecturer said he was having drinks with his friends when a woman selling men's underwear approached them. "She asked if she could speak with me privately. I don't know what happened thereafter," he said.
He woke up the following morning in a room. His mobile phone, ATM card and ID card were missing. After reporting the theft and renewing his line he learnt he'd lost Sh370,000. "The suspects even borrowed mobile loans using my details," he said.
The Thika businessman was at a bar in Kahawa West when three women asked if they could join him. "As we continued taking our drinks one asked me to send her Sh1,000 on phone, and I did."
He woke up the following day in a lodging, naked. "I later learnt Sh270,000 was missing. The suspects borrowed digital loans using my details." The third victim, a resident of Roysambu, said he saw a woman appearing stranded on the roadside on May 15. He asked if she could have drinks with him, and the woman accepted.
"Later, we booked a room. I don't know what happened thereafter. I woke up the next morning, naked. I lost an ID card, ATM card and a mobile phone," he said.
Some Sh170,000 was withdrawn from his mobile and bank accounts. It is unclear how the suspects accessed and withdrew the victims' money from accounts.
Police are investigating allegations that the group of women, who drugged the victims, were working closely with Mr Mugota. Kasarani Directorate of Criminal Investigations Officer Vincent Kipkorir said investigations are underway.
No arrests have been made.