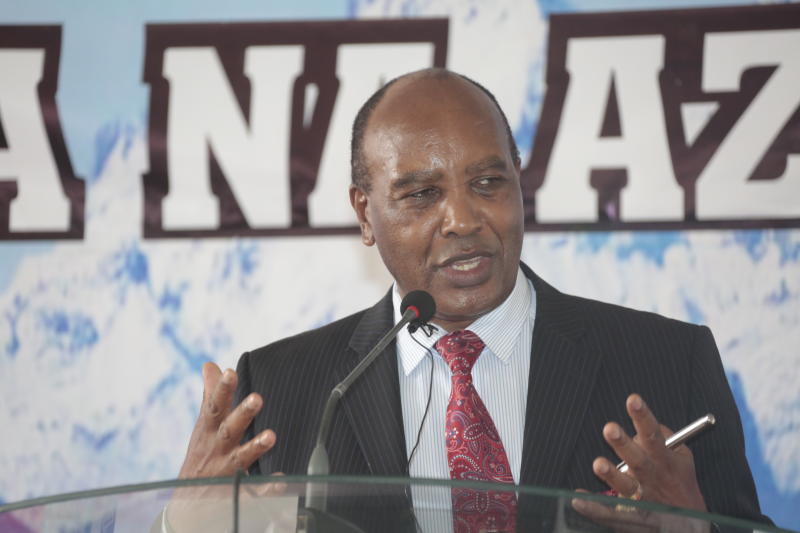 The race for the Nyandarua County governor seat is seen as one of the most contested in the Mt Kenya region.
Incumbent governor, Francis Kimemia is facing stiff competition from Ndirangu Badilisha of the United Democratic Alliance (UDA) party, Assembly Speaker Ndegwa Wahome of Chama Cha Kazi (CCK) and former Governor Waithaka Kirika of The Service Party (TSP). But pundits say that it is clear the battle is between Mr Kimemia and Mr Badilisha.
This is because the duo belong to the top political formations of Azimio La Umoja-One Kenya Coalition and Kenya Kwanza Alliance.
Mr Kimemia was PS to the Cabinet and Head of Public Service in President Mwai Kibaki's regime and briefly served as the Secretary in the Cabinet Office in President Uhuru Kenyatta's government. He will require the skills he acquired from his long stint as a civil servant to win a second term.
He already overcame his first challenge when Jubilee Party preferred him as its flag bearer against former Water Cabinet Secretary Sicily Kariuki.
His next hurdle is to convince voters that he is suitable to serve as the next governor. For the past four years, the opponents have put him on his toes as they scrutinise his performance as the second governor of Nyandarua.
The choice of running mates, development track records and political party affiliation will play a key role in determining how votes will be shared between the four candidates. All the four candidates have picked their running mates from Kinangop Constituency which has the highest number of registered voters.
According to the updated Independent Electoral and Boundaries Commission (IEBC) voter register, Nyandarua has a total of 335,634 registered voters.
Kinangop accounts for 109,241 registered voters, followed by Ol Kalou with 68,376, Kipipiri 50,366, Ol Jorok 54,770 and Ndaragwa with 52,831.
Mr Kimemia has picked Mr Mbugua Mungai, a civil engineer while Mr Badilisha has settled on Mr John Mathaara. Mr Kirika has picked former County Trade Executive Mwangi Gathimba.
Two of the running mates are not new in politics as they participated in the 2017 for various seats.
Mr Mathaara was a contestant for the Kinangop parliamentary seat in 2017 and came second while Gathimba contested for the governors position but lost. Mbugua is a new entrant in politics.
Mr Kimemia was forced to drop the current deputy Cecilia Mbuthia, who did not to be his running mate.
After wrangles with Ms Kariuki over who should fly the Jubilee flag, the party leadership resolved that Mr Kimemia was the best bet due to his impressive development record. The party said Mr Kimemia's transformative leadership has seen the county achieve tremendous development in the past five years.
Jubilee secretary general Jeremiah Kioni was quoted as saying the party had faith in Kimemia and its leaders were confident that he will deliver the seat.
According to analysts, Mr Kimemia is banking on his development record, which many have described as impressive compared to the previous administration.
His development record has seen him bag the winner medal of the World Bank-supported Kenya Devolution Support Programme (KDSP) twice.
He was ranked second during his first year in office before emerging the winner in Word Bank's consecutive rankings.
As a result of the exemplary performance, Kimemia managed to secure Sh906 million from the World Bank under the KDSP programme.
Change this trend
It is from this grant that his administration secured road rehabilitation machinery worth Sh500 million, which has been used to improve infrastructure.
Over 1000 kilometres of roads have been upgraded in the last five years, a move he said will make it possible for farmers to deliver their produce to the market.
"Never again will the poor state of the roads be a campaign tool. People interested in politics will have to look for something else to tell the voters since we have done all the roads," Kimemia said in a recent interview. "The pictures that used to crop up on social media are no longer there."
The county has also put up a Sh500 million potato cooling plant in Ol Kalou which will see farmers store their produce before it is taken to the market. It is also putting another one in Njabini. In the health sector, Kimemia's administration has put up a 500-bed capacity ward at JM Kariuki Hospital in Ol Kalou while Engineer Hospital is being upgraded to Level 4 at a cost of Sh650 million. But his competitors have accused him of lacking accountability. "We have seen millions of shillings being spent on projects on paper but on the ground, there are no such projects. That is why we want to change this trend by voting him out," Mr Badilisha said.
Badilisha is campaigning on the platform of accountability, improving agriculture, facilitating education activities and infrastructure development.
He said those are key areas which the incumbent has failed to address effectively and he plans to rejuvenate once elected.
"We have received over Sh60 billion since devolution took effect and this money cannot be accounted for. Our priority will be to account for all the resources. Corruption will be our first enemy," he said.
Speaker Wahome said that corruption has ruined development in the county. "This is a vice that my administration must tackle. We will not allow government resources to end up in people's pockets. To uplift standards of living, corruption must end," said Wahome.
Kirika said he knows all the problems residents face since he has been a two-time MP for Kinangop and was also a deputy governor.
"I know the issues that affect the Nyandarua people having being their leader for over 15 years. I am better placed to lead them as their next governor through my experience," he said.
Muraya Wagura, a local political analyst said that the issue of one's party choice and development record will determine the winner.
"It is known that UDA and Jubilee are the most popular parties in the region," he said. "Whoever is not in these two parties must show the residents his development record and prove he can lead without their support."