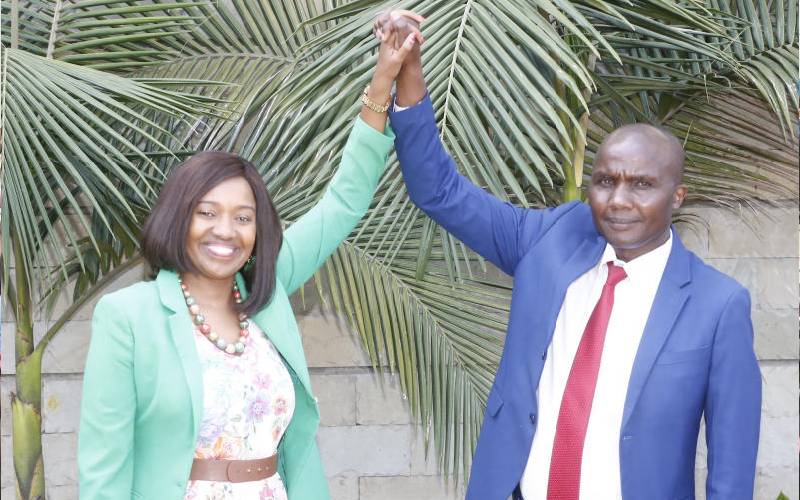 Gender balance, academic credentials and ethnic balance played a key role in determining governor running mates in the Rift Valley region.
In Nakuru, two top contenders for the governorship seat pulled the gender and ethnic balance cards while appointing their running mates.
Governor Lee Kinyanjui and his rival Senator Susan Kihika have picked their deputies from the second largest ethnic community – the Kalenjin.
In a surprise move, Mr Kinyanjui dropped his deputy Dr Eric Korir with whom he was elected into office in the 2017 elections.
He has instead picked Nakuru politician Franscicar Kamuren, 47, who was vying for the Nakuru Town West MP seat as an independent candidate after losing in the UDA nominations
"After long consultations with diverse stakeholders, I have decided to appoint Ms Fransciscar Jelagat Kamuren for my second term bid," said Mr Kinyanjui.
Mr Kinyanjui described Kamuren as an accomplished grassroots mobiliser with a strong passion for community development.
She holds a master's degree in Linguistics from Egerton University
Senator Kihika unveiled David Kones as her running mate, describing him as a man of outstanding personality and character.
Mr Kones, 62, who holds a Bachelor of Education degree from Egerton University was previously the principal at Ogiek Sotiki Secondary School in Kuresoi South, his home area.
"After weeks of rigorous vetting of 16 qualified candidates, I have chosen David Kones to be my running mate. He has impeccable skills in education, community leadership and administration with an added advantage of conflict resolution skills," said Kihika.
Mr Kones is also a preacher and director at Africa Gospel Church in charge of 34 congregational churches.
He described his nomination as a surprise noting that in the race there were several other candidates who had experience in the political field.
"I was shocked that the senator picked me as her running mate. I am up to the task and am committed to working under her guidance to bring development to Nakuru County," said Mr Kones.
Bomet Governor Hillary Barchok has retained his deputy Shadrack Rotich after weeks of speculation that he would replace Mr Rotich.
"No one is perfect but we have agreed to continue working with Rotich. The electorate should ignore any rumours," said Mr Barchok.
Mr Barchok's move has been greeted with mixed reactions, with some of his supporters criticising his actions.
However, political commentator Ivor Korir said the move would stem a fallout.
"It is a tactical move by Barchok and he has stemmed a fallout in his camp that his opponents were waiting to capitalise on," said Korir.
Mr Rotich's critics accused him of lacking political aggressiveness. He, however, dismissed the critics, saying he had worked well with Barchok and had delivered most of their promises.
Dropped bid
He said those pushing for his removal do not mean well for Barchok and should be ignored.
"We have done our best as a team and with the decision by Barchok that I will remain his running mate, I want to promise that I will not let him down," said Mr Rotich.
Laikipia Governor Ndiritu Muriithi nominated Michael Waigwa as his running mate. Mr Waigwa was running for the Laikipia East parliamentary seat on a Jubilee Party ticket but dropped his bid.
Mr Ndiritu's current deputy John Mwaniki is vying for the senatorial seat on a Jubilee Party ticket. Mr Ndiritu who is the Jubilee governorship candidate has described Waigwa as a young charismatic leader.
"I am pleased to introduce a young charismatic leader who will bring new ideas and energy to my government. He has worked in various sectors and has public involvement in various projects. I believe in him as we embark on the next journey" said Muriithi.
Mr Waigwa promised to cooperate with Muriithi as his deputy once elected in the August polls.
"I am ready for the task ahead. We will work as a team to develop Laikipia more once elected," said Mr Waigwa.
Former Laikipia governor Joshua Irungu who is seeking a comeback on a UDA ticket has fronted health expert Reuben Kamuri as his running mate who hails from Laikipia East. Irungu comes from Laikipia West.
In Nyandarua, Governor Francis Kimemia who is defending his seat on a Jubilee Party ticket has stuck with his deputy Cecilia Mbuthia.
"We want to continue with the journey to serve the people of Nyandarua as a team," he said.
His competitor Ndirangu Badilisha who is contesting for the seat under the UDA party ticket has picked Mathaara Mwangi as his running mate.
Nyandarua County Speaker Ndegwa Wahome who is running for the same seat under the Chama Cha Kazi party has nominated politician Mwangi Gathimba. Gathimba ran for the seat in 2017 but lost.
Political deal
All the running mates come from the vote-rich Kinangop.
Kericho's UDA nominee Erick Mutai who hails from Bureti constituency has paired up with Fred Kirui.
The deal between Mutai and Kirui, a former Kenya Ports Authority director, was reached on April 12 two days before the heated UDA party nominations.
It saw Kirui who hails from Kipkelion West constituency and who had initially eyed the governor's seat change tack and back Dr Mutai by accepting to be the running mate.
The combination allowed Mutai to win over voters from Kipkelion West and East constituencies which are Kirui's strongholds.
Kirui's support allowed Mutai to beat three other candidates among them former Devolution Cabinet Secretary Charles Keter, Deputy Governor Lily Ngok and Prof James Sang who were also eyeing the UDA ticket.
Kirui, 47, said he sacrificed his gubernatorial ambitions for the sake of Kericho residents.
Kirui graduated in 2007 from Jomo Kenyatta University of Agriculture and Technology (JKUAT) with an MSc in Civil Engineering.
"It doesn't matter whether I am the governor or the deputy governor as long as I can implement the county government's agenda and ensure Kericho residents get the services and the development they desire," said Kirui.
[Reporting by Kennedy Gachuhi, Niko Tanui, James Munyeki, Gilbert Kimutai]