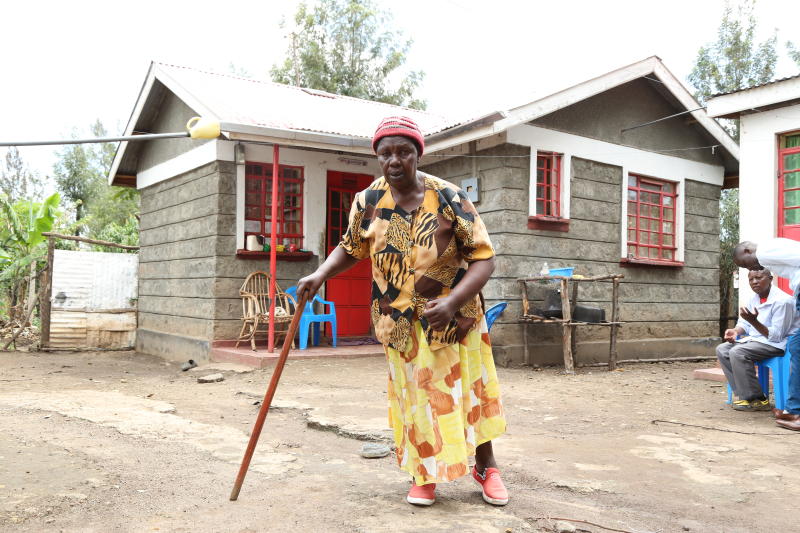 The pain of losing their loved ones still remains fresh in the minds of victims of Solai Dam that broke its banks on May 9, 2018.
The night was horrific, as locals conducting their personal errands were caught unaware by the incident that claimed the lives of at least 48 people and left tens homeless. Thriving businesses were swept away and agricultural rich land in the villages of Nyandarua and Energy center-left bare. Normalcy at the locality is elusive, and four years later locals are struggling to pick broken pieces. The horrific encounter with death as locals say remains fresh in their minds.
At the trading centre some homes are yet to be reconstructed reminding the people of the ugly incident. Yesterday, there was no event held to mark the four years and though the centre has been rebuilt, locals claim the incident is weighing them down. Phyllis Nyambura, a survivor of the incident was left with a lifetime injury. The scars on her body she said reminded her of the fateful day when she lost her husband and grandchild.
She recalled the fateful day's event like they just happened. She was home with her husband, grandchildren when they heard of a loud explosion and asked her husband to check.
"We heard an explosion and before we could run for safety, our neighbor's house was down and we were swept away, we were covered in debris," she said.
Nyambura recalls hearing the voice of a minor calling for help. Luckily for her head was not covered. Six people she said carried her to a waiting ambulance and she found himself in the hospital. Nyambura breaks into tears as she narrates how she cannot hold anything using her left arm and her legs cannot bear her weight.
"I at times wish I had died in the tragedy instead of having survived and live with the pain. I cannot help myself, and feel I am becoming a burden to my son," she said amid sobs.
The tragedy she said left them with nothing as their lifetime investment was destroyed. Retired teacher John Ngugi on his part lost his wife and his property was swept away. What remained in his compound was an avocado tree that stood the wave of the raging waters.
"The four years have not been easy, have encountered a series of troubles. I have tried reviving my shop business and stocked four times but it is not picking up," he said.
Ngugi who lives in a home constructed by Kenya Red Cross said he is even struggling to take care of his two school-going children who are yet to go back to school.
"I am yet to come to terms with the loss, I lost direction following the incident having lost the person I treasured most," he said.
Kabazi Ward MCA Peter Mbae in a statement termed the tragedy as the most difficult experience in his life.
"As the Ward representative, it has caused me real emotional, psychological, financial and time distress over the years in search of justice for the victims including trying dialogue and alternative dispute resolution mechanisms," stated Mbae.
Solai Restoration Programme supported by both National and County Governments, he said has given Solai area a new face. Thirty five houses that had been demolished by water were constructed through Red Cross. Two matters are now pending in court. In one of the cases, nine suspects are facing criminal charges. In the case Perry Manusukh and eight others are charged with 48 counts of manslaughter. Others include Vinoj Jaya Kumar, Johnson Njuguna, Luka Kipyegen, Winnie Muthoni, Jacinta Were, Tomkin Odo Odhiambo, Willie Omondi and Lynette Cheruiyot.
The case is still pending in Naivasha Law Courts.