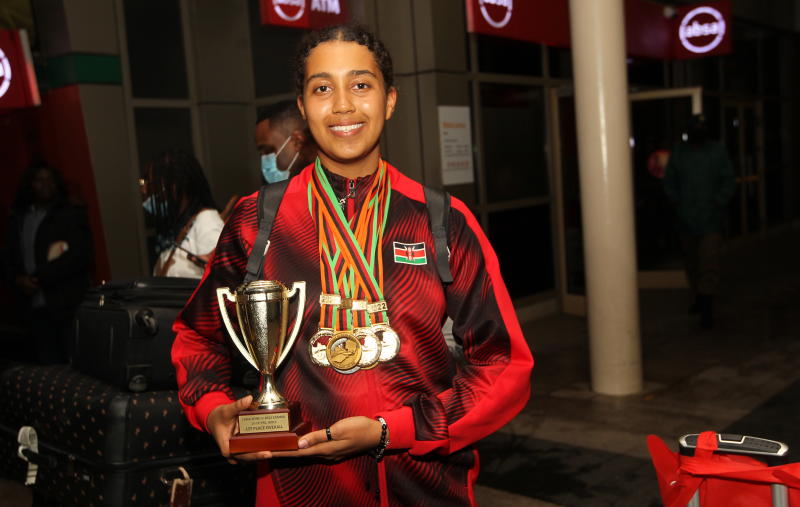 Kenya's rising star Maria Bianchi won six medals as the national team to the 2022 Cana Zone Four swimming championships in Lusaka, Zambia returned on Tuesday night.
The Kenyan swimmers came out strongly to claim some of the top individual awards despite fielding a sizeable number of swimmers under Mombasa-based coach Vishula Patel who was assisted by Nairobi-based coach Tennyson Mwangangi.
In the girls under 15/16 category, Maria Bianchi was adjudged the best girl swimmer after winning three gold, two bronze and one silver.
Bianchi minted gold medal in 100m freestyle, 100m breastroke and 200m individual medley (IM). She went ahead to win silver in 200m breaststroke before she completed her excellent performance with two bronze medals in 800m freestyle and 100m butterfly.
In girls under 17 category, Imara Bella Thorpe was the top girl after winning gold in the 100m butterfly. Macrine Kalombo was second best swimmer in the girls 12/13 category after she won silver in 100m breaststroke and bronze in 200m freestyle.
Angel Williams gave Kenya two more gold medals after winning in the women 400m freestyle and 3km open race and went further to win two bronze medals in 200m backstroke and 200m freestyle.
Duini Caffini won three silver medals to improve Kenya's medal tally. Neo Olengo won gold in the boy's open water race and grabbed three bronze medals in 200m individual medley, 100m butterfly and 100m breaststroke.