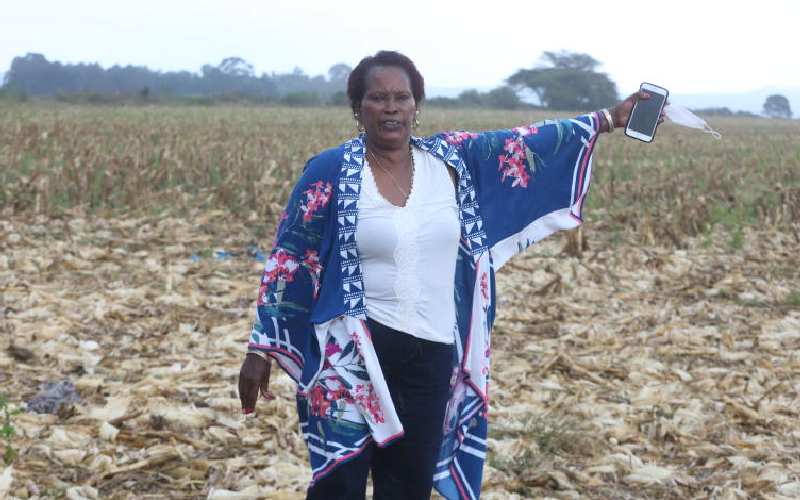 A grandson of a former Nakuru politician Kibowen Komen has moved to court to block his grandmother Rachael Komen from being an administrator to his grandfather's estate.
The estate comprises 2,600-acre land, a petrol station, shares at the East African Breweries and several parcels of land scattered across Nakuru and Baringo counties.
In suit papers filed at the High Court, Peter Kipruto, who is the son of former Rongai MP William Komen, claimed that his grandmother is unsuitable to administer the estate.
Rachael is one of the three widows of the late Kibowen, who died without a will on February 15, 1997. The other two widows are Magdalina Tapsiarkani and Sote Komen.
In his application before Justice Teresia Matheka, Kipruto said the grandmother resigned as the administrator of the estate and gave up her rights to be re-appointed.
"At some point, my grandmother was an administrator of my grandfather's estate, but on her own volition, she resigned and renounced her administrator's position and swore an affidavit for the same," he submitted.
In the affidavit dated April 11, 2017, filed as evidence, Rachael stated that some conflict of interests had arisen and she could no longer continue to administer the estate.
"I pray that the court exempts me as an administrator. I am not in any possession of documents or funds relating to the estate," she stated.
Kipruto claims that his grandmother withdrew as an administrator after getting 350 acres of land among other assets. She allegedly was appointed to hold in trust for herself and her children.
"She also withdrew after learning that one of her co-administrator, Mohammed Komen, had allegedly committed forgeries and fraudulently procured fake documents of the estate's properties," says Kipruto.
Kipruto says his grandmother is ineligible because she withheld facts that her parents are unlawfully residing and using Kibowen's 80-acre land at Keringet.
He alleges that since 1997, Rachael has suppressed and concealed the details of Kibowen's shares in East African Breweries Limited.
Kipruto also opposes his grandmother's application for her grandsons James Bowen and Emmanuel Kibet to be her co-administrators. He says they can inherit their shares from their parents.
He wants the court to appoint him as the administrator of the estate on claims that he is qualified and is a direct beneficiary.
"I have been in the cause since 1997, I am neither biased nor partisan, I have done what I could to preserve the estate and I have also guided the court in making decisions that have been beneficial to the estate," he states.
Kipruto is responding to his grandmother's application dated August 12, 2021.
In the application, Rachael wants a grant issued to her deceased stepson Stephen Kiptui on July 31, 2018, revoked.
She wants to replace Kiptui, Sote's son, who died as the new administrator.
Rachael said that due to the lack of an administrator, the estate's interests had been seriously prejudiced and she was in the best position to take over.
"I am the only surviving widow of the late Kibowen and I have the priority right to be the administrator," she submitted.
She added that Bowen and Kibet, whom she intends to administrate with, will ensure all the three houses are well represented.
She claimed that the family agreed that she and her grandsons be appointed the administrators in a family meeting held on June 20, 2021.
"The whole family unanimously endorsed us to be administrators," she deposed.
The application hearing will be on April 21.