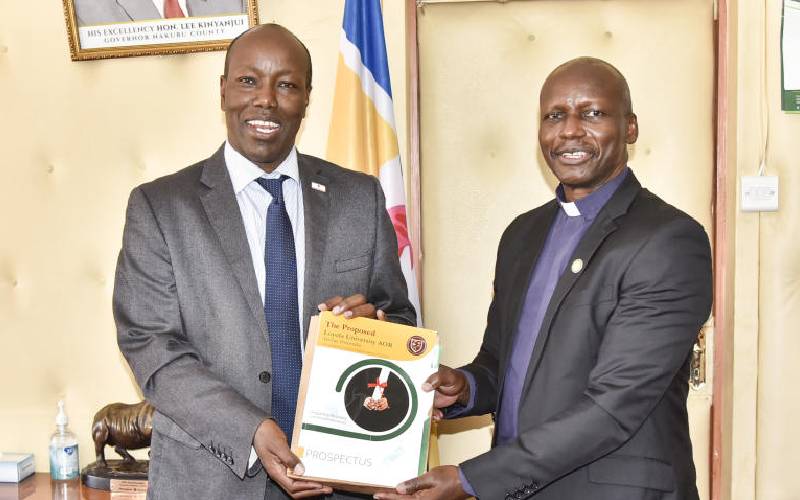 The Catholic Church has embarked on setting up a university in Molo, Nakuru county.
The Jesuit Congregation has already acquired a 75-acre piece of land for the construction of a branch of the US-headquartered Layola University.
A delegation led by Reverend Dr Kizito Kiyimba, the Society of Jesus Provincial for East Africa, on Thursday toured the site after holding a meeting with Nakuru Governor Lee Kinyanjui and education officials in the county.
Documents seen by The Standard on Saturday indicate that the first and second phases of the project will be undertaken at a cost of approximately Sh2.7 billion (US$24 million). Two other phases that will be completed by 2030.
Dr Kizito said that the first phase of the project is set to be complete before the end of next year.
"The first phase of the construction will be completed by December 2023. We are, however, optimistic that we shall have started offering short courses at the university by then," said Kizito.
Layola University has over 250 learning institutions spread across the world, 20 of them in the United States and its branch in Molo will be the first in Kenya to serve the East African Community member states.
Kizito explained that while the university is supported by the church, it aims at offering solutions to problems facing humanity across the globe.
"Layola University's goal is to mould men and women who will transform society by instilling academic excellence, inclusivity and care for the person. It aims to mould job creators and not job seekers," said Kiyimba.
Governor Kinyanjui described the project as a major boost to the county's education sector, noting that it currently only boasts of Egerton University.
"Many public universities closed their satellite campuses in the county recently. The entry of Loyola University is a big win for the county and the people around Molo," said Kinyanjui.
They include Kenyatta University, Jomo Kenyatta University of Agricultural Technology and Laikipia University.
"This new campus will bridge the gaps in our education sector now that they will offer courses on data science, business studies with a focus on entrepreneurship, education science and engineering," said Kinyanjui.
Molo MP Kuria Kimani said he will support the university, noting the community will also benefit from jobs and a market for their goods and services once complete.