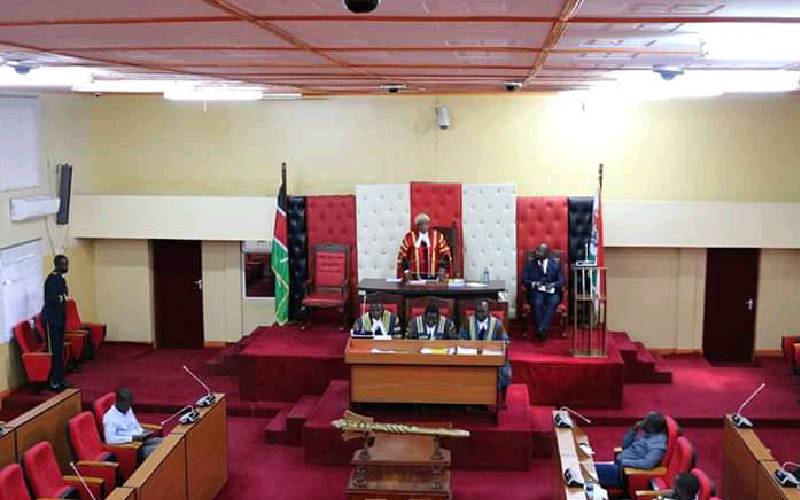 Impeached Speaker Justin Michael Nkaduda today received a rude shock after he was barred from entering his office after he tried to meet some members of the county assembly to sort out their differences out of court.
This is the second time Nkaduda was blocked outside the assembly as he tried to meet his allies to settle their differences. He is accused of corruption, gross misconduct, and incompetence.
The speaker arrived at the office gate in the morning hours with his close family friends but was denied access by the security guards, despite him showing papers of a court ruling that directed the case be settled out of court.
Nkaduda was left stranded for three hours in the hot scorching sun as he sought permission to serve the court order to the assembly Clerk.
The embattled Speaker was told by security officials manning the gate that the Clerk had earlier issued warnings that he should not be allowed in whatever circumstances.
However, some of the MCAs who had a sitting in the chambers ended their sitting and left through a different door, leaving him stranded.
"Mheshimiwa we have discovered that there is nobody who can serve you at the time, the chambers are empty" a security guard was heard telling Nkaduda.
While addressing the press at the main gate, Nkaduda accused Deputy Speaker Sadam Hussein and the Clerk of causing disunity among the members of the assembly by ignoring lawful orders. He also blamed the Clerk for running assembly affairs as personal property.
Efforts to reach the acting Speaker Sadam Hussein were futile as his phone was off throughout the day.
But earlier while speaking to The Standard, the Clerk Abdullahi Hussein Daib said he had no personal differences with the former Speaker.
"I told him if he wants the issue solved amicably, he should sit down with MCAs separately and solve the problem instead of forcing himself into assembly illegally," he said.
Nkaduda had filed a petition at the High Court in Malindi where he claimed that all the three charges are politically instigated and do not hold water.
The case was first heard at the Employment and Labour relations court in Malindi where the court ruled that the case be solved out of court.