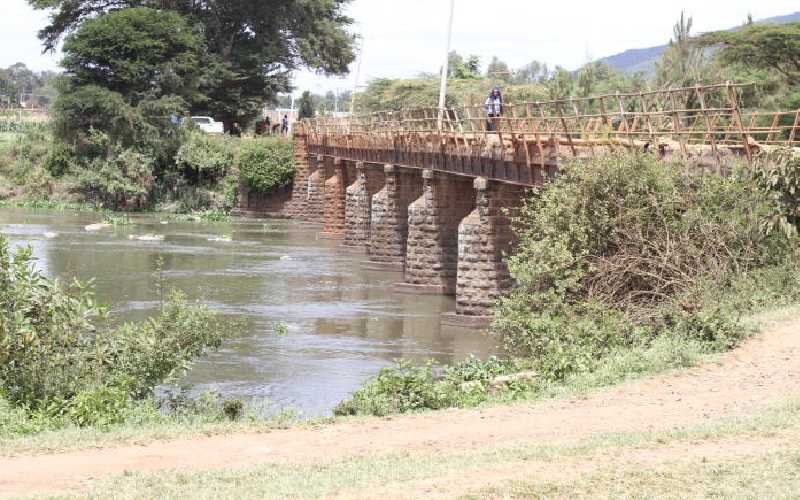 For many years, the Ol Donyo Sabuk Bridge in Machakos County gained a foul reputation for being associated with death.
Often, bodies were retrieved from River Athi below it, leaving locals downstream wondering whether their source of water had been turned into a flowing graveyard.
At the height of the sustained crackdown against the banned Mungiki sect in 2006, the bridge shot to the limelight due to regular recovery of bodies in River Athi. So routinely were bodies found in it that it became normal for relatives searching for their missing kin to first visit the bridge instead of heading straight to either a police station, hospital or mortuary.
Some of the people killed and dumped under the bridge include Baringo County Assemblymember Thomas Minito, lawyer Willy Kimani, his client and their driver.
Minito, who represented Churo Amaiya ward in Baringo County, was found in the river in 2017.
The last time that he was seen alive was while having lunch in Kabarnet town, from where two people suspected to be police officers whisked him away.
Earlier, Kimani's body and that of his client, Joseph Muiruri, were found in the river after they went missing for a week in 2016. They had just attended a court session in Athi River when they were kidnapped by unknown people.
The same year, a former Moi University student who disappeared for four days was found dead and his body recovered at the bridge.
Shukri Mohammed, 24, went missing from his mother's home in Kaptembwo in Nakuru town on April 4, 2016.
To date the killers of Minito, Kimani, Muiruri, Mohammed and many others whose bodies were retrieved from the same location remain a mystery as the country continues to witness similar deaths with the faceless murderous now preferring other dumping spots, the latest now being River Yala.
Curiously, most victims either had a brush with the law, had pending court cases, questionable backgrounds or were on police watch lists. Now, some members of civil society organisations believe the deaths could be the work of killer squads.
"Our assessment based on data over the last few years is that this is the work of organised killer gangs, both civilian and police," said Peter Kiama, the executive director of the Independent Medico-Legal Unit (IMLU).
According to him, it could either be some civilians fed up with an ineffective judicial system taking the law into their own hands or existence of an unwritten policy within the National Police Service and other policing agencies to eliminate suspects.
"The cases of murders, disappearances, torture in Kenya is a clear failure of the State responsibility to protect.
"The government narrative of denial and only reacting when we spotlight these issues is a clear dereliction of duty. The government owes a public apology to Kenyans for this failure," said Kiama.
There has been uproar following the latest discovery of 25 bodies in River Yala. Although authorities have collected DNA samples for analysis and matching, the process might take long, adding to the agony and misery of families whose loved ones are missing.
A few of the badly decomposed bodies have been positively identified with The Sunday Standard establishing that at least two of the victims had a pending court case.
Philemon Cheruiyot Chepkwony and Peter Kiio Mutuku were positively identified by their relatives at Yala Sub County Hospital mortuary. The two had a robbery with violence case number 86 of 2018 at a court in Narok.
They went missing on the same day they were traveling together with two other men. They were last spotted along the Nairobi-Nakuru highway. The vehicle they were traveling in was later found abandoned in Gilgil.
"It is very shocking that he was tortured since he had multiple stab wounds in his abdomen and on the head. It has left me wondering whether my brother was a terrorist to be subjected to such gruesome death," said Meshack, Chepkwony's brother, after positively identifying the body last week.
Chepkwony and Kiio's bodies were found together with those suspected to be of missing Donosio Oteba Okutuyi and Eustace Ndirangu Kibaba. While the family of Oteba is certain that the body belongs to him, Ndirangu's relatives are not too sure.
Initially, his sister, Irene Waheto, who was the first to visit the morgue, told journalist that she had positively identified his body after viewing it.
"It is Ndirangu, I am sure it is him," she said.
However, the man's wife has contradicted her sister-in-law, insisting the body is not Ndirangu's.
"I know my husband. It is not him and I remain optimistic that he is alive wherever he is. That was not his body because Ndirangu has marks on the leg and hand while those teeth are not his. Secondly, the body resembles that of a younger person," said the woman who preferred the matter not be discussed further.
Ndirangu, in his late 50s, has been missing since last November. A mobile signal last traced his location in Gilgil. He was said to have been traveling in a saloon car in the company of three other men.
He had previously served a long jail term before being released in 2019. He was a beneficiary of the landmark Supreme Court ruling of 2017 that declared mandatory death sentence unconstitutional.
Ndirangu appealed for a re-sentencing and won, winning back his freedom on May 2, 2019. He, together with Thomas Mutinda Munee in case number 2506 of 2001, had been charged in a Machakos court with violent robbery. Jointly with others not before court, Ndirangu and Mutinda were accused of robbing Willy Karoki of a truck valued at Sh5.6 million at gunpoint. The incident took place on October 13, 2001 at Mlolongo trading centre on Mombasa Road.
They later lodged a first appeal at the High Court which was dismissed. A second Appeal at the Court of Appeal was also dismissed. The re-sentencing appeal was, however, successful.
"It is the finding of this court that the appeal by both appellants herein has merit," ruled judge D.K. Kemei. "The same is allowed to the extent that the sentence imposed by the trial court during re-sentencing hearing is hereby set aside and substituted with an order that the sentence is reduced to the period already served. The Appellants are hereby set free forthwith unless otherwise lawfully held."
Fears of extrajudicial killings
Questions however abound on whether this disturbing trend of killings has silently been sanctioned, and by who.
Amnesty International Kenya, while calling for expeditious investigations with the aim of getting the killers, said extrajudicial execution of persons suspected of serious crimes or terrorism is unlawful and a crime in itself.
"Should police officers from either the Directorate of Criminal Investigations, Military Intelligence or the Anti-Terrorism Police Unit be suspected to have abducted, tortured and murdered any of the human beings now lying in Yala mortuary, they and anyone who commanded them, must be promptly brought before courts and charged," said Amnesty's, executive director, Irungu Houghton.
Houghton demanded that autopsy findings on the victims be made public and independently scrutinised by the Independent Policy Oversight Authority, Kenya National Commission on Human Rights, human rights organisations and interested citizens.
"It is only this that will diminish growing public suspicion that mandated or rogue police units may be complicit in these deaths," said Houghton.
Though suspicion of existence of killers squads within or outside the police command will not die soon, police spokesman Bruno Shiosho exonerated officers from blame.