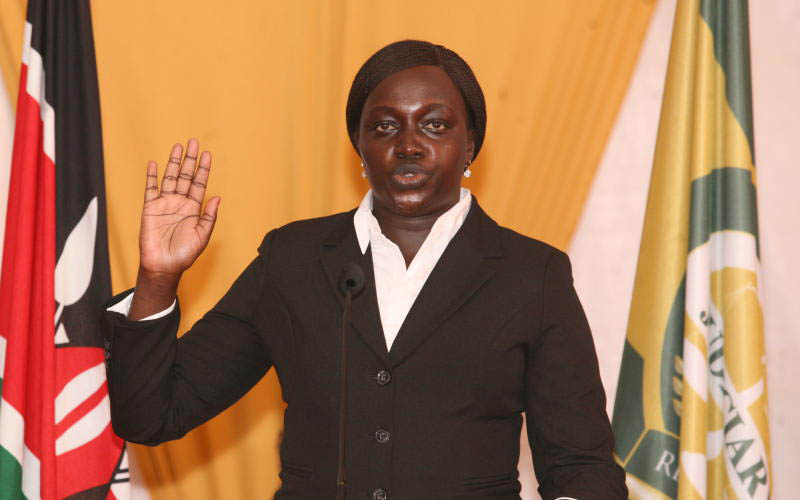 Chief Justice Martha Koome has expressed optimism that the 64 magistrates sworn in yesterday will clear the backlog of cases.
Speaking when she presided over the magistrates' swearing-in ceremony at the Supreme Court buildings, the CJ told the officers that nothing should stop them from dispensing justice to the public.
Among the 64 were 19 adjudicators who will be in charge of small claims courts.
"You have now become missionaries of justice and this will mean putting your life to justice, integrity, professionalism and service. The oath of office is not different from one I took seven months ago. Therefore, make sure every ruling you make is just and fair,'' said Koome.
The CJ advised them to avoid being influenced not only by political and religious leaders, but also by families and friends in dispensing justice.
She told them their work will demand commitment, civility, intellectual curiosity and non-infringing independence.
"I listen to the oath and it is only the two influences namely political and religious that are mentioned, but you will also meet influence from your friends and families. Purpose that nothing comes between you and the oath of office because its from you that we shall have judges of the Supreme Court in future," she said.
She said since the Constitution demands they be independent and accountable, they should make every day count.
This, she said, would also reduce backlog of cases that have been a headache to the Judiciary.
"We therefore expect you to be the most engaged participants in our quest to reduce case backlog. We want to meet our targets by ensuring that no case remains unresolved for more than three years, which is still a lot,'' she said.
She added: "Those who have worked in small claims' courts know that a case should not take 60 days and this is possible even in magistrates' courts.''
The CJ said they will be required to file performance returns on a daily basis.
She said she will not tolerate cases of files lying in the registry unattended to.
"All the files must be actively managed, no file should be left lying around. The file should be actively managed by a clerk, ensure that it has documents required for the matter to proceed, file has dates of hearing and no case remains in the system for more than three years,'' she said.
The CJ said lateness would not be tolerated, adding that employees must report on time and ensure cases commence at 9am.
On corruption, she said they are enforcing a policy of zero tolerance to corruption.
"We will deal swiftly and firmly with any allegation of corruption and these days it's easy to nib corruption in the bud. That is why I say the career you have chosen is narrow and therefore you should uphold integrity if you want to build a career in Judiciary,'' said Koome.
Former Standard Group's legal officer Caroline Cheruiyot was among the magistrates who were sworn in yesterday. She was posted to Kakamega.
Supreme Court judge Smokin Wanjala, who is also the director of Judiciary Academy Campus, told the newly sworn-in magistrates to consider themselves lucky because there were days when there was no induction.
"Most of those who would come from university would apply without knowing where they would be posted and struggled for one year without knowing what to do. But for us at the academy we shall walk with you throughout and therefore learn to embrace the trainings and take them as part of judicial function," said Wanjala.
The magistrates will go through a one-week induction training before they are posted to their various stations.
Deputy Chief Registrar Paul Ndemo told the magistrates that the success of the Judiciary and the justice system at large will depend on them. He advocated accountability, impartiality and independence.
"This is because the decisions you make not only affect the lives of people who appear before you but also the image of the Judiciary,'' he said.
He challenged the magistrates to embrace technology because since the onset of Covid-19 in 2020, a majority of the cases have been conducted online.