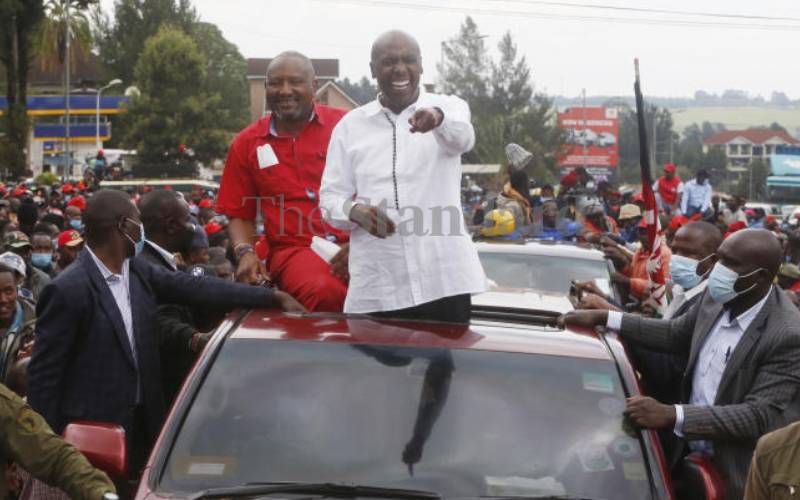 Kenya's oldest party Kanu has reconstituted its National Elections Board (NEB) to ensure free and fair nominations ahead of the August 9 General Election.
Speaking during the Kanu Nairobi branch aspirants' meeting at the party's headquarters in Nairobi, yesterday, Secretary-General Nick Salat assured the contestants that the NEB members will be impartial
"As we speak, the National Elections Board is being reconstituted and its new members will soon be made public to ensure transparency in the conduct of party primaries," he said.
Mr Salat admitted that the party has learned from the mistakes of 2017 which cost it so many seats across the country.
"After the disorganisation witnessed during the 2017 nominations, the party has put up comprehensive mechanisms to ensure that this year's nominations are conducted in an effective manner," said Salat.
He said the party will field candidates in all the elective positions, including the presidency after the National Delegates Conference endorsed its Chairman Gideon Moi in September, last year.
NEB chairman Edward Kivuvani urged the aspirants to embark on a membership recruitment drive in their respective constituents, noting that only duly registered members will vote during the nominations.
"There will be no opportunity for bungling the nominations, therefore, make sure you register as many members as possible because they are the only ones who will vote for you," said Kivuvani.
He urged the aspirants to take advantage of the digital membership recruitment portal as well as USSD code which was launched in July 2020, by the Kanu chairman in line with the party's membership policy.
Kivuvani recounted how the board engaged in protracted legal battles in 2017 due to mistakes that would have been avoided had the party's internal election structures and mechanisms been effective.
"I have the obligation to oversee smooth, free, and fair nominations. We want to reduce loopholes for nominations litigation as much as possible to save the party from being dragged in court as was the case in 2017," he said.
Kanu Executive Director George Wainaina assured aspirants that a desk will be set up at the national secretariat to address emerging issues.
Also present in the meeting were the Director of Elections Ally Khan, Kanu Women Congress National Chairperson Betty Adera and Kanu Nairobi branch Chairman Frank Mbogo.