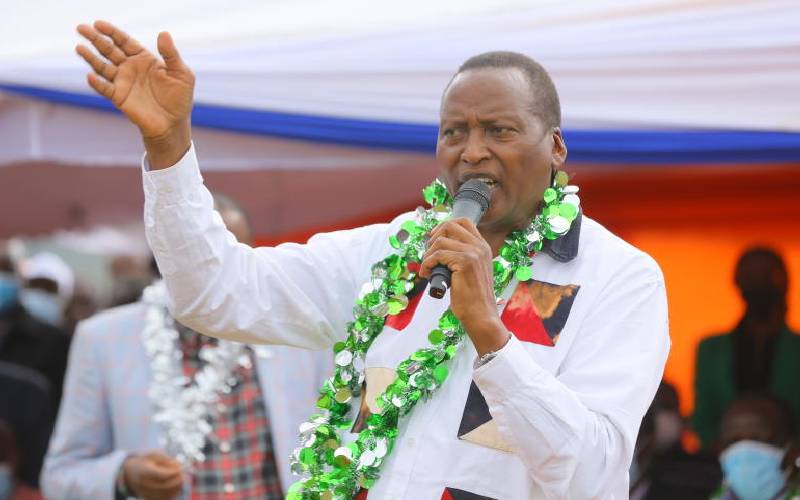 The Director of Public Prosecutions (DPP) Noordin Haji on Monday ordered investigations into alleged incitement remarks made by Kitutu Chache MP Richard Onyonka during a rally in Kisii County.
Onyonka made the utterances during a public rally in Kisii County.
In a letter to the Inspector General of Police Hillary Mutyambai and copied to the Chairperson of the National Cohesion and Integration Commission (NCIC), wants the alleged utterances of the MP probed if they are contrary to provisions of the Constitution that says freedom of expression does not include incitement and spreading hate speech.
"Reference is hereby made to a video clip circulating on social media platforms in which Onyonka is addressing a gathering in Kisii County. The alleged remarks captured in the video clip may be contrary to Article 33 (2) of the Constitution which provides that the right of freedom of expression does not extend to propaganda for war, incitement to violence, hate speech or advocacy of hatred and Section 62 (1) of the National Cohesion and Integration (NCIC) Act," Haji said in the letter.
Haji wants Mutyambai to submit the investigation file within seven days from Monday.
"Pursuant to Article 157 (4) of the Constitution, you are hereby directed to undertake an investigation into the aforementioned matter and submit the investigation file within seven days," he added.
Onyonka landed in trouble after Deputy President William Ruto on Monday called on the police to also investigate his utterances.
While apologising over the recent Madoa doa remarks made by Meru Senator Mithika Linturi during a United Democratic Alliance (UDA) party rally in Eldoret, Ruto called on the police to rein in on political leaders from across the political divide spewing hate speech.
The DP spoke during a prayer rally at the Bomet Stadium where he warned UDA politicians to mind their language when on the campaign trail.
"We do not subscribe to any divisive talk. We do not agree with any talk that profiles individuals, groups, or communities," Ruto stated.
Ruto also called on the relevant agencies to be impartial while probing hate speech and incitement among politicians citing the Kitutu Chache MP's remarks
"We want all culprits, whether they belong to UDA or the other side, to face the law equally so that we can rid the nation of hate and incitement," he said.
A section of Kenyans and leaders condemned Senator Linturi's alleged hateful remarks with many noting in unison that Kenya cannot afford another post-election violence as was witnessed in 2007/2008.
Linturi was arrested by detectives at Eka Hotel, Eldoret on Sunday over alleged utterances he made at the rally.
The lawmaker was charged on Monday with incitement as police applied to be allowed to detain him for seven days pending investigations.