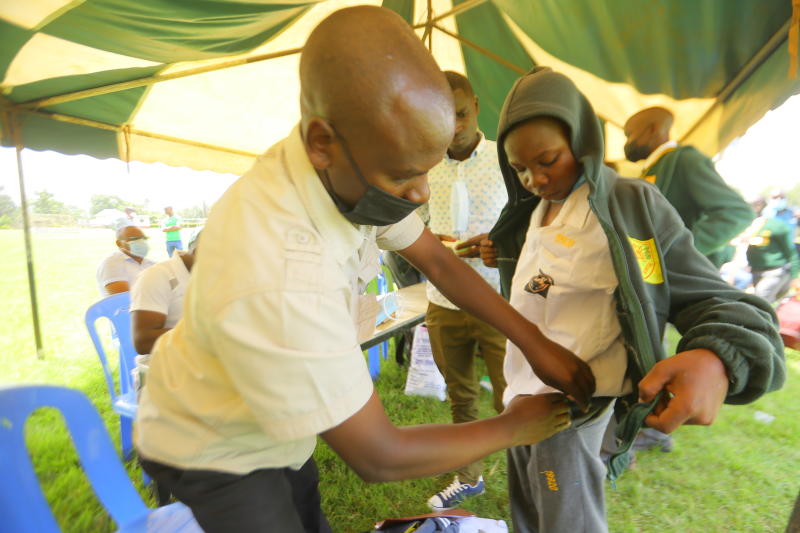 Education Cabinet Secretary George Magoha is in a spot for supporting mandatory drug test for high school students, which stakeholders have termed illegal.
Parents, teachers, lawyers and counseling psychologists have expressed shock at the ongoing forced testing of children, with indications that the matter might be headed to court.
Experts argued that the exercise that began at Maranda School in Siaya County, and which has been backed by Prof Magoha, is an abuse of children's rights and an affront to privacy of the learners.
Lawyer Ken Echesa said the matter would land in court, as it is unconstitutional. "The exercise violates various sections of the Constitution that touch on right to privacy, children's rights and discrimination, and must be stopped. It is unnecessary intrusion on children's lives," said Mr Echesa.
He said mandatory tests, even with negative results, were not beneficial and would likely affect children'd behavior and character. "The government should engage stakeholders such as parents and children to voluntarily participate in the exercise. And it must be aimed at helping children, not to victimise," said Echesa.
"This act is unprofessional, unconstitutional and illegal. It is also not in line with training of children; it violates Children's Act and must be stopped," said Omboko Milemba, the Kenya Union of Post Primary Education Teachers (Kuppet) national chairperson.
Mr Milemba, who is also Emuhaya MP, said children who could not defend themselves should not be subjected to forced drug tests. "Does Magoha consult? Does he even talk to his staff or other Education stakeholders; or even experts in his office? Because if he does, then he should have been told that this is illegal and immoral," said Milemba, who is also a member of the National Assembly Education Committee.
He the government must strengthen guidance and counselling in schools to help children overcome some of their challenges. "Forced tests will make children develop hard line stand and even get hardened. They will adopt bad behavior and challenge teachers that they were cleared of any drug abuse," said Milemba.
Magoha publicly supported the mandatory drug tests, which has now been adopted by many secondary schools, especially those that had arson cases last term. The CS said the test would help in identifying errant students before isolating them to ensure schools run smoothly.
"The problem we are facing now starts at home. We have children who are being given everything they ask for at home and when they come to school, they expect to get the same treatment," said Magoha.
Faith Nafula, a counselling psychologist, said mandatory drug tests for students was not a solution to indiscipline. She said the exercise would only reduce or control the students from taking the drugs so that they can access their schools. "You do not have to be taking drugs for you to exhibit indiscipline. We have other forms of indiscipline in schools like bullying, that are done with sober boys and girls," said Nafula.
She said a negative drug test result does not also mean the student is fit to access their respective schools.
"There is more to that than just testing. The students might have their own reasons as to why they are burning schools. Substance abuse may contribute to their mal behavior but there could be more to it."
Nafula argued that the immense pressure the students are being subject to, to perform in their academics to get good grades may be a reason for bad behaviour. "Communication channels in some schools are not as open to address some of the issues affecting them," said Nafula.
Caroline Kahiu, substance use prevention advocate said drug testing is more than getting the students examined at school, or even taking them to a local health facility.
"If considered, it should be part of a comprehensive intervention. It should be within a facility or program that has experience in the treatment of adolescents because what works for adults may not work well for adolescents," said Kahiu.
She argues that the test may be negative if done more than two to three days after the last time drugs were used (window of detection). "Drug tests can be negative if the urine sample is overly diluted, substituted with someone else's sample or if the sample is adulterated, especially if there is no direct observation when giving the sample," said Kahiu.
And now, parents want the testing stopped immediately and only allowed to give consent in a well coordinated and managed voluntary exercise aimed at helping children.
"As it is now the mandatory testing in schools is unacceptable and it can be used by some teachers to punish students they wish to victimize," said Nicholas Maiyo, national parents' association chairman.
Maiyo said no tests should be done in school and also cautioned that teachers must not force parents to consent to tests. "Let parents decide what they wish for their children and let them do it voluntarily," Maiyo said.
Kahiu said that the National Guidelines for Alcohol and Substance Use Prevention and Management in Basic Education Institutions, 2021 explicitly provide a blueprint for basic education institutions, teachers and caregivers in responding effectively to issues related to alcohol and substance use in schools.
"The guidelines recommend drug testing by an accredited public health facility as part of incident management in cases of suspected alcohol and drug abuse coupled with counselling and involvement of parents or caregivers," she said.
"It should not be taken as a punitive approach to dealing with learners suspected of drug use," Kahiu said.