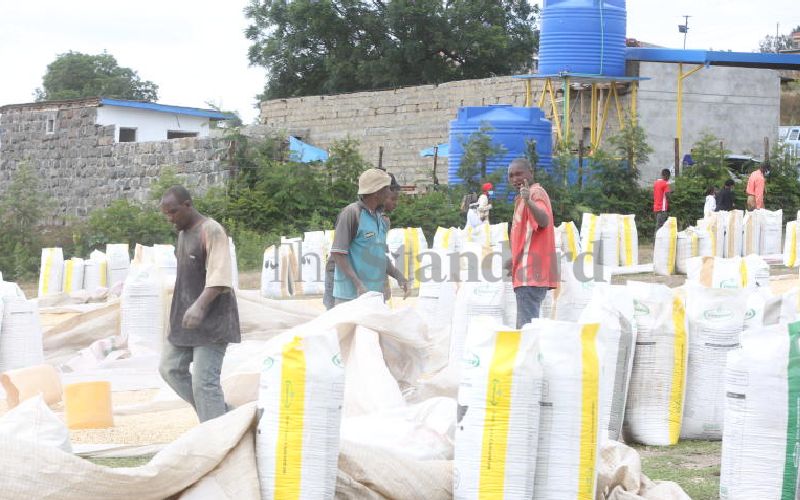 Some maize farmers in the Rift Valley region have said the new price of Sh3,000 per 90kg bag is of no significant value to them.
The National Cereals and Produce Board (NCPB) last month offered to buy produce from maize farmers at Sh1,305 per 50kg bag.
The price was further reviewed to Sh2,700 per 90kg bag before being set at Sh3,000 on Wednesday.
While some farmers are happy, others have felt it was too little too late compared to the amounts they spent on inputs.
"We are excited that the Sh3,000 set by NCPB will push demand and prices offered by millers and traders who offer between Sh3,200 and Sh3,300 at the farm gate," said Thomas Boen, a maize farmer from Kaptebee in Turbo, Uasin Gishu County.
He said that although farmers have stocks, they prefer selling to other players at the farm gate at better prices and with less conditions.
"If the government does not intervene to ensure adequate supply of subsidised fertiliser ahead of the planting season in March, farmers will not afford current rates of Sh5,200 per bag. This will lead to low yields and hence a threat to food security," said Boen.
Ruth Kemboi, the chair of Kenya National Farmers Federation (Kenaff), Uasin Gishu branch, said NCPB reviewed maize price at Sh3,000 when farmers have exhausted their stocks.
"Most farmers have disposed of their maize to pay school fees. The Covid-19 pandemic also affected producers who rely on the sub-sector," said Kemboi.
She said the government should have set maize producer prices at Sh3,500 to make it profitable. She expressed fears that fertiliser prices would increase once farmers start buying stocks.
Kipkorir Menjo, the Kenya Farmers Association (KFA) director, welcomed the latest price, terming it better but said it was not commensurate with cost of production.
"The board is purchasing the maize for its commercial function and all farmers are encouraged to deliver their grain," said a statement by NCPB managing director Joseph Kimote.
"The price of Sh3,000 we are offering will enable farmers get value for the maize they deliver due to the accuracy of our weighing services."
Cornelius Kering, a farmer from Soy in Uasin Gishu described the price as 'not bad' but anticipated prices to rise to over Sh4,000 in the free market.
"I am yet to shell my maize. Once I decide to shell and sell it, I will offer to whoever gives me better rate in the market," said Kering.
He further said that high production costs, changing climate patterns, pests, diseases are among challenges affecting earnings from maize farming.