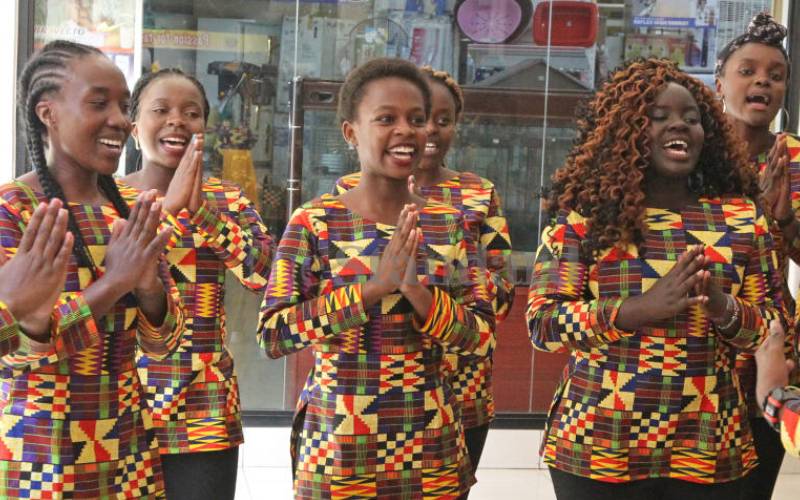 The traditional Christmas hymns classics "O Little Town of Bethlehem" to "Angels We Have Heard on High" by Josh Groban—tell the Christmas stories from the holy Bible reminding us of Christ triumphant and to reflect on the true meaning of the holiday.
When rendered by the Nairobi Girls Chorale, we can't help, but be moved by the words and music of Christian Christmas songs.
Contemporary mixes by the group provide a modern twist to Christmas carols that all ages will hum along to.
A light jig on a collection of these traditional Christian hymns, like Carrie Underwood's epic rendition of The First Noel, O come all Ye Faithful by Handel, Hark the Herald by Charles Wesley, O Holy Night, a poetic hymn by Placide Cappeau, Silent Night by Franz Xavier, Ding Dong and Joy to the World were a staple this season!
A rich full-bodied sound has raised Nairobi Girls Chorale to national and international bar to fame since its inception in 2007. This, together with meticulous intonation and versatility, has made the group a name in music circles.
Founded by David Isindu, to empower young women in Africa, the group - comprising 25 female singers from various public universities - has been recognised as a treasure. They have been lauded for their innovative programming, technical precision and commitment to the creation of new works for ladies voices.
These versatile singers perform a diverse repertoire extending from renaissance works to masterpieces of our own time.
It is loved for its beautiful, blended sound from pristine, quiet unison to the majesty of large textured sonorities.
With vocal leads of soli Melvin Trufena, Cate Murugi and Alicen Mbote, the group touches and moves the audience with beautiful leads and sweet harmonies.
Yvonne Alfreda and Sally Oriko double up as team leaders, beside their pivotal role of alto singers.
Admission into the choir is by audition, and scouts for talented girls in secondary schools and universities in Nairobi during music festivals before nurturing them. The girls then move on to create space for others. As such, the group always has fresh faces and talent.
Isindu says that forming the group was a dream come true.
"We were following the footsteps of the Boys Choir of Kenya. I was working with Huruma Girls while Joseph Muyale was training Aquinus Boys. When he founded the latter, I was inspired and started the group to give the girls a platform to be able to develop and use their talent positively," he said.
Isindu didn't imagine the group would grow and live beyond a decade and represent the country on international platforms.
"We went to Chicago's Trinity Church where former US President Barack Obama worships. After their successful tour of the US, charming their audience including Re. Jesse Jackson at Rainbow Push Coalition, the girls have earned several international invites in Zimbabwe, Western and Eastern Europe, West Africa, and South Africa."
The girls live up to their name as they fearlessly move between musical genres, always aiming to communicate, engage, and entertain.
Nairobi Girls Chorale has collaborated with internationally renowned groups such as Music School of Chicago and has also had a performance together.
In December 2014, Music School invited the Nairobi Girls Chorale for an exchange programme.
The two groups quickly formed friendships, learned from one another's unique skill sets, and created memories that will last a lifetime. Through the trip, to challenge stereotypes, the team gained exposure and raise tuition money and support their needy friends.
In recent years, the group has commissioned original choral pieces in their newest CD, Bless mama! Classics for girls' Chorus, which was released in 2019.
It features Bless Mama, Tuli Tuli, Niwara Nono, Mkombozi Wetu, Go Tell It On The Mountain, Dinesi, Ukuthula, Tutembelee, Let There Be Peace and Nitayainua Macho.
"We want to start a mega talent academy in Nairobi that will take care of music, culture, soccer, dance, anything that will help the Kenyan children," Isindu says.
This year, the group will be in Washington for three weeks. They meet at the Kenya Cultural Centre on Saturdays and Sundays starting from 2-4pm.
Apart from the hymnal, the group also does folk music and other genres in its study and performances with folk music turning to be their meat.
Whether it be a sombre moment of reflection during a Remembrance Day performance or a joyful turn of comedic phrasing, Nairobi Girls Chorale is renowned for transforming the performance from 'concert' to 'conversation.'
Some light accompaniment here and there by piano or drums, the girls make no mistakes - the focus is one, to bring out the best performance.
A rigorous performance schedule both requires substantial dedication and stamina to earn them pocket money to keep them going.
Songs, which usually contain pieces in several different languages, are performed from memory. Although the huge variety and quantity of literature demands enormous flexibility and commitment, the rewards in terms of both educational and musical experience are rich and plentiful.
Isindu says music is a career to many and no one should overlook the art.
He says in the group he has people from different professional backgrounds: Architects, teachers, doctors and journalists, among others.
He hopes to grow more, and see more girls benefiting rather than depending on seasonal performance.
Although the group has no constant cash flow, it performs in shopping malls, weddings, state and corporate events on invite.