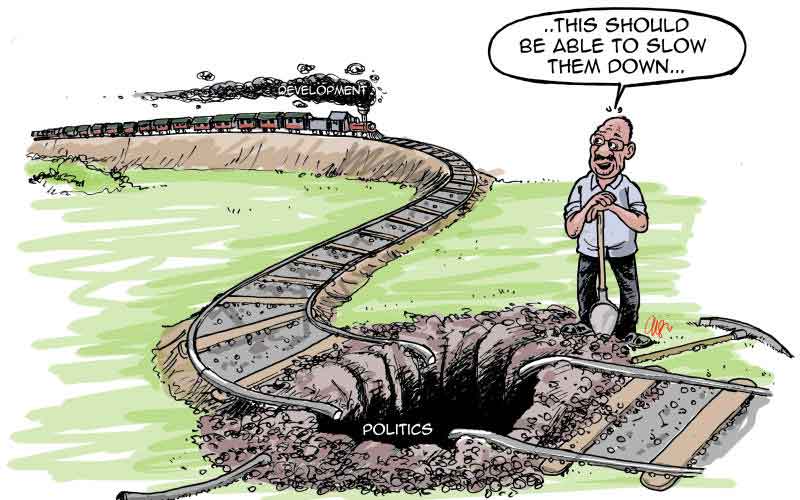 "Don
'
t let your ambitions of tomorrow cloud what you must do today," President Uhuru Kenyatta said in a recent interview at State House, Nairobi. Although the quote might sound like common sense to most, it has been anything but apparent in the politics of our country in recent months. The personal ambitions of some of our nation's prominent politicians seems to have superseded their commitment to the well-being of the citizens they represent. This has and will continue to become more apparent as we inch closer to the 2022 elections.
SEE ALSO: Mudavadi's condition for working with Ruto
The polarisation of Kenyan politics has more often than not come at the expense of our government's ability to live up to promises made to citizens. How frequently have we seen newspaper headlines discussing internal political manoeuvring alongside stalemates in parliament? It would take a book to enumerate the toll that these have taken on Uhuru's ability to implement flagship projects, such as the Building Bridges Initiative (BBI) and his Big 4 Agenda. It is possible that these projects were stalled by politicians who perhaps see things differently. Politicians after all, are allowed to have diverging opinions as to what is best for our country. There are issues, however, that one would expect politicians across the political spectrum to support. One such example is the war against corruption. Despite the hopefully universal understanding that graft must be stopped, initiatives by our president aimed at putting an end to corruption have been incessantly interrupted.
SEE ALSO: ODM bags plum committees posts after Jubilee concedes
This started with criticisms of the officials appointed by Uhuru to investigate criminal activities. From questioning their legal mandate to conduct such investigations to playing dirty and critiquing individuals' characters, the creativity invested in undermining efforts to keep our political system clean knew no bounds. The president has, however, ignored the detractors and instead chose to extend a hand of peace and bridge political divides. This is not commonplace in our political system. According to Uhuru, his aim has been to, "create an environment where those different ideologies and positions can be expressed, and where people can go to an election without shedding of blood and destruction of property" Those who stand in the way of this unity and sow discord and hatred will find out that it will not help in their political agendas. Be forewarned that the people of Kenya see your actions and will remember these when they go to the ballot box in 2022. As the book of Galatians teaches us, "The one who sows to please his sinful nature, from that nature will reap destruction".
SEE ALSO: Corona hits new high. Was it a gamble to reopen?
However, all is not yet lost. With two years to go until the election, mistakes made can still be rectified. The implementation of the BBI, although delayed by the coronavirus pandemic, is still very much in the works. The same goes for the execution of the Big 4 Agenda, which prior to the outbreak had already begun to show progress in the construction of affordable housing for citizens, guaranteeing food security, expanding and strengthening our manufacturing sector as well as working towards the aim of guaranteeing health coverage for each and every Kenyan. The need to set aside our differences and work together for the future our nation is more pronounced today than ever before. It is unfortunate that it takes a global crisis to emphasise this to some of our nation's politicians, but better late than never. Despite having personal political aims in mind, it is high time that those be set aside for the benefit of us all. If there is a message from Uhuru's years in office that has the power to change the face of our nation it is that of unity. On a political level, this can be translated into unity between opposing political factions. On a national level this unity will manifest itself in the aims we seek to purse for our nation. But most importantly, on a personal level, unity will best show our commitment to a better future for our children. With this in mind, ambitions of tomorrow will instead encourage the important steps that must be taken today.
Mr Mugolla is a public policy analyst
[email protected]