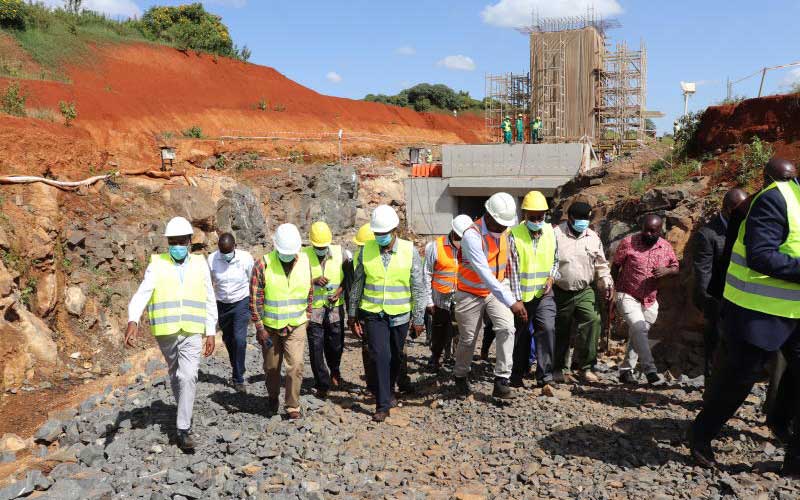 The construction of Sh20 billion Thiba dam in Kirinyaga County will be completed next year as planned, the government has confirmed. Speaking after inspection of the construction works on Wednesday, Water and Irrigation Principal Secretary Joseph Irungu said work at the mega dam was 40 per cent complete and the progress was satisfactory. Mr Irungu revealed that the national government had provided all the necessary resources for timely completion of the project. Once complete, the dam will enable expansion of the area under rice irrigation. "Water from the dam will enable expanded irrigation in Kiamanyeki area where we will add another 13,000 acres under rice. Farmers in the Mwea Irrigation Scheme will also be able to farm rice two seasons in a year compared to one season currently," he said.
SEE ALSO: Anti-graft body probes Kirinyaga County staff
Th scheme was established in 1954 and has a
Gazetted
area of 30,350 acres with the main crop grown being the Basmati 370 rice. The area under irrigation is 26,000 acres (22,000 acres in the main scheme and 4,000 in the out-growers). The PS, however, revealed that they had terminated the contract of the firm constructing the water canals in the scheme over delays. "The contractor started issuing demands that were not in the initial contract and we terminated his contract. We are in the process of recruiting a new contractor or several others," he said. The PS noted the dismissed contractor had already covered 60 per cent of the project, adding that all efforts will be taken to make up for the lost time so that both the canals and the dam project, which complement one another, are ready by next year. He said the initial complaints by contractors about failure to give them tax exemptions has now been settled.
SEE ALSO: No matter the conflicting views on Waiguru, the law has spoken
At the same time, Interior PS Karanja Kibicho who was part of the entourage, said they were impressed by farmers in Kiamanyeki who, even before the dam is completed, have already put an additional 2,000 acres under rice. Mr Kibicho said they confirmed that farmers were now selling their rice to Mwea Rice Growers Multipurpose Cooperative Society at Sh85 per kilo of paddy as directed by President Uhuru Kenyatta on February 1 after the State allocated Sh660 million. Kibicho, however, warned the society's management to ensure that only members who have known rice farms benefit. He said they were aware some brokers were buying rice from farmers at Sh40-Sh60 per kilogramme and selling to the cooperative at Sh85, which he noted was not the president's intention. He directed Kirinyaga County Commissioner Jim Njoka and County Police Commander Leah Kithei to investigate and bring to book those behind the fraud.