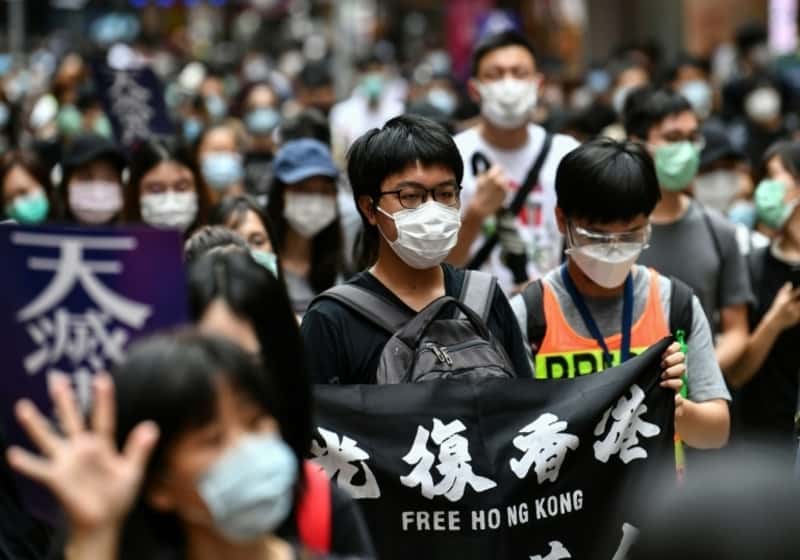 Donald Trump promised Tuesday to announce by the end of the week his response to the controversial bill that China wants to impose on Hong Kong, warning that it could cause the territory to lose its status as an international financial center. The President of the United States is "dissatisfied" with Beijing's intention to deprive the former British colony of its autonomy, the White House said. According to him, it is "difficult to imagine how Hong Kong can remain a financial capital if China takes control". Asked later about the possibility of sanctions against Chinese officials - as demanded by American parliamentarians -, Donald Trump assured that he was preparing "something right now". "I think you will find it very interesting", "you will hear about it before the end of the week, in a very powerful way", he said, maintaining a certain mystery.
SEE ALSO: Manchester United stay fifth after Southampton grab late leveller
This dossier has further deteriorated relations between the two first world powers, already stretched to the limit regarding the management of the coronavirus. The Chinese central government tabled in parliament on Friday a very controversial text aimed at prohibiting "treason, secession, sedition and subversion" in Hong Kong, which again set fire to powder in the semi-autonomous region. It must be examined as of Thursday and Beijing has asked for its application "without any delay". Beijing's response after months of massive and often violent protests in 2019 in Hong Kong, it is also a response to the inability of local authorities to adopt this text which had already raised shields in the past. Many Hong Kongers see it as the most serious breach of the principle "one country, two systems" which is supposed to guarantee them until 2047 freedoms unknown elsewhere in China. A concern shared by some Western capitals and foreign investors, as illustrated on Friday the strongest stall on the Hong Kong Stock Exchange in five years.
SEE ALSO: Technology a critical enabler for efficiency in our justice system
The head of the local executive, Carrie Lam, at the head of a team aligned with Beijing, therefore deemed the concerns of investors "unfounded". "Hong Kong's freedoms will be preserved, and its vitality, its fundamental values ??in terms of the rule of law, the independence of the judiciary and freedoms will continue to be there," she said. The text, she added, "targets only a handful of offenders and protects the vast majority of residents who respect the law and love peace." She said anti-government protests would continue to be allowed if they "take place in a legal manner". Comments echoing those made the previous day by China's highest representative in Hong Kong, Xie Feng, who told diplomats and foreign entrepreneurs that there was "absolutely no reason to panic" in the face of a law targeting "violent and terrorist forces". For its part, the Chinese army in Hong Kong warned that the law "would punish any separatist act".