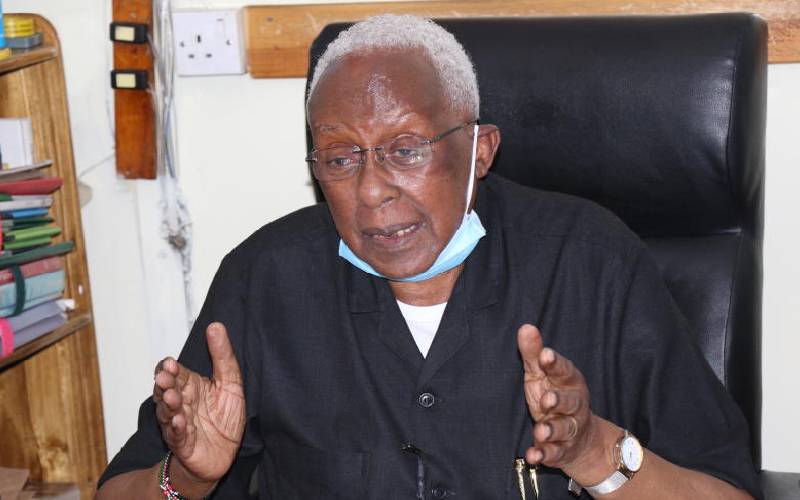 A section of Rift Valley elders have called on President Uhuru Kenyatta and Deputy President William Ruto to prioritise national unity in the face of political wars. Addressing the Press in Nakuru, the Rift Valley Council of Elders led by their patron Gilbert Kabage (
pictured
) urged the two leaders to bury the hatchet and present a united front. "This is the worst time for the president and his deputy to display this kind of discord. Kenyans are hurting socially and economically. Adding the burden of political divisions on the public at this time will leave this country in turmoil," said Mr Kabage.
SEE ALSO: To open or not is no issue, health and economy are
He warned that the desperation of citizens in the hard economic times can easily spark violence that may have far reaching effects than the coronavirus pandemic. "Kenyans have enough problems to deal with now. Their health safety is their priority. Being representatives of the people, politics should be the least concern for Uhuru and Ruto today," said Kabage. While declaring support for the move by the president to work with other political parties, he said this should not be used as a platform to divide leaders who command support in the country. "I'm a life member of Kanu since 1983 and am glad it is working with the ruling party. Even as the president cracks the whip on dissenting voices, he should not forget that every elected leader commands support and their supporters are watching," he said. The elders warned that the onslaught on some leaders risks returning the country to the dark days of single party rule.
SEE ALSO: MP urges Uhuru to drop 'lazy ministers' in looming Cabinet reshuffle
"We have always celebrated the move by the late former President Moi to allow multi-party democracy in the country. However, with the onslaught on a certain group of people we are likely to lose all the gains made since 1990s," he said. The sentiments come amid reports that the ruling Jubilee Party plans to remove Ruto's allies from leadership positions in the Senate and National Assembly. Kabage urged the president and DP to work harmoniously in driving the country on the path to economic recovery following effects of Covid-19 rather than directing energy at isolating allies in different political camps in government. "The president should also maximise on the remaining few years to prove that his administration can deliver his promises, some dating back to 2013. The recent actions are bringing a big shame to Jubilee and making it a laughing stalk for small parties," said Kabage. The council secretary, Peter Charagu, said their objective of pursuing peace and cohesion among communities within the Rift Valley was at stake following wrangles in Jubilee Party.