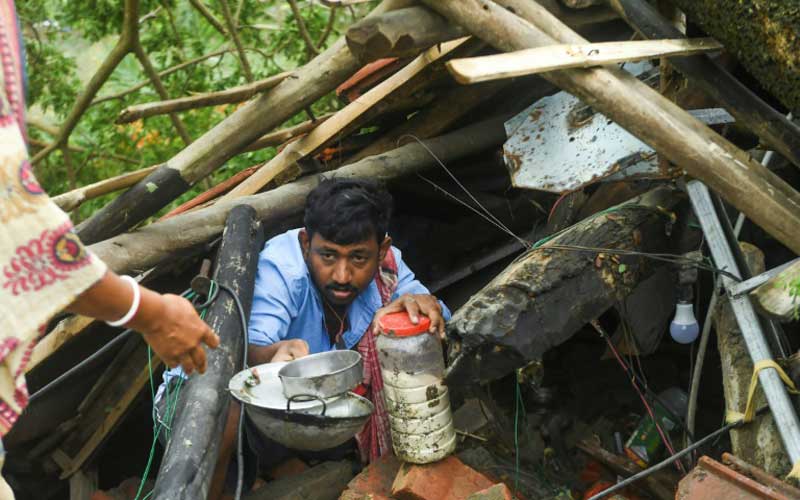 India and Bangladesh began a massive clean-up Thursday after the fiercest cyclone since 1999 killed at least 84 people, leaving a trail of destruction in its wake. Cyclone Amphan flattened houses, uprooted trees, blew off roofs and toppled electricity pylons, while a storm surge inundated coastal villages and wrecked shrimp farms vital to the local economy. The United Nations office in Bangladesh estimates 10 million people were affected, and some 500,000 people may have lost their homes. But the death toll was far lower than the many thousands killed in previous cyclones -- a result of improved weather forecasting and better response plans.
'Worse than coronavirus'
"The impact of Amphan is worse than coronavirus," premier Banerjee said. "Thousands of mud huts have been levelled, trees uprooted, roads washed away and crops destroyed." Other officials said they were waiting for damage reports from the Sundarbans, the vast mangrove area that is home to endangered Bengal tigers and which bore the brunt of the storm.
Bangladesh largely spared
"My home has gone under water. My shrimp farm is gone. I don't know how I am going to survive," Omar Faruq, 28, told AFP. "The coronavirus has already taken a toll on people. Now the cyclone has made them paupers," said local councillor Bhabotosh Kumar Mondal. The last super cyclone in 1999 left nearly 10,000 dead in India's Odisha state, eight years after a typhoon, tornadoes and flooding killed 139,000 in Bangladesh.