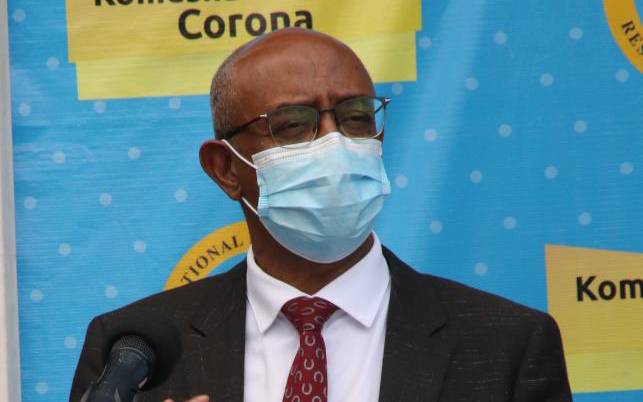 The government has warned the youth engaged in providing voluntary cleaning services against harassing and extorting commuters at the bus terminals. During the coronavirus update briefing, Health CAS Dr Rashid Aman
(pictured)
lauded the youth who enrolled for national hygiene program for stepping up in ensuring observance of safety measures against the virus. However, Dr Aman noted that there are groups of youths who are harassing people in Nairobi and other towns as they demand money after doing the cleaning. He also warned them against harassing and extorting commuters under the pretext of enforcing the Covid-19 safety measures. "We have noted a situation whereby some of them (youth) are forcefully demanding money within the neighbourhood they are cleaning…They should respect the original purpose of the program," he said.
SEE ALSO: Community mental health services vital in addressing crises
Further adding: "I'm equally concerned of youths robbing and harassing commuters under the pretext that they are not wearing masks." The CAS said that after running tests on 1,516 samples, 22 people tested positive for coronavirus. This brings the total number of those who have tested positive for the virus to 737. He said that four people died of the virus over the past 24 hours, bringing the total number of deaths in the country to 40. Out of those who tested positive for the virus, 21 are Kenyans while one is a Ugandan. Ten are from Nairobi, eight from Mombasa, three are from Namnaga border point in Kajiado County and one from Bomet. This means that 20 counties have so far registered Covid-19 cases. In Nairobi, four cases were from Embakasi, three from Kamukunji, three from Kibra, and one from Kenyatta National Hospital. However, the government has said that 22 people recovered from the virus and were discharged, making it 281 recoveries for the country. During the testing exercise, Dr Aman said that 25 truck drivers who were tested on the Tanzanian side of the Namanga border point had the virus. 23 of them are Tanzanians, one Rwandese and a Ugandan.
SEE ALSO: Ensure the poor have access to basic needs
To speed up the testing exercise at the Namanga border, the government has announced an impending arrival of two mobile laboratories courtesy of the East African Community's efforts to fight the scourge. "I want to report that we shall soon be receiving a mobile laboratory courtesy of the East African Community," Dr Aman stated. This precedes a Kajiado County fact-finding mission by a group of health officials from the emergency team that spearheads the fight against coronavirus.
Increased testing
Addressing the press at the same function, the Director-General of the Ministry of Health Dr Patrick Amoth said that the government is intensifying testing measures to elevate campaigns to fight the disease. Of importance is the plan to expand the testing capacity at the border points to open up the economy. "The Namanga test is to address the snarl-up at the border and ensure the free flow of cargo from Tanzania," he said.