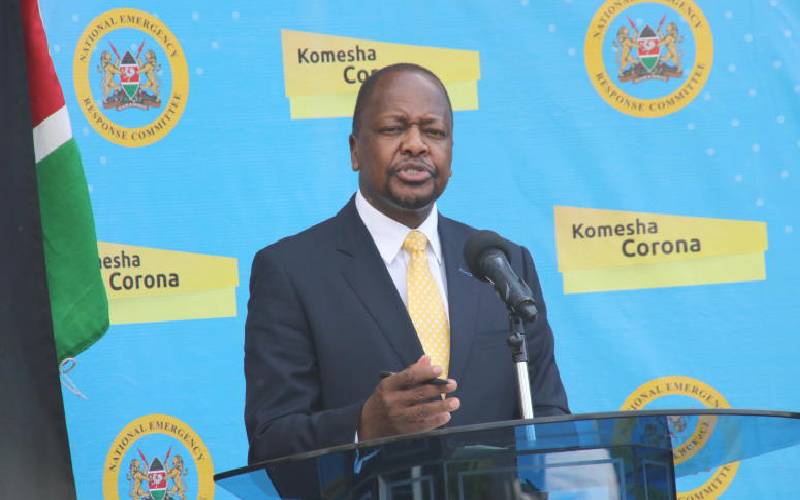 Health Cabinet Secretary Mutahi Kagwe (
pictured
) has defended government's restriction on movement to curtail spread of coronavirus and wants a case challenging the directive dismissed. In response to an application by activist Okiya Omtatah challenging the Covid-19 Restriction of Movement of Persons and Related Measures Rules, Mr Kagwe argued that lifting the orders would lead to lawlessness and put the lives of millions of Kenyans at risk of contracting the virus. "If orders are issued to lift the restrictions, then we will have no legal mechanism to ensure social and physical distancing, wearing of face masks and people from geographical regions identified to be hotspots will move freely, making it impossible to contain spread of coronavirus," swore Kagwe.
SEE ALSO: More than 20 Covid-19 cases at two football clubs after lab error
According to the CS, there is nothing unconstitutional about the measures taken by the government since it is in public interest to save vulnerable Kenyans from contracting the disease. Mr Omtatah challenged the government's decision to restrict movement of people in areas identified as hotspots due to high numbers of Covid-19 positive cases and the manner in which the government was forcing people into quarantine facilities. The activist accused the Health CS of exceeding his powers to make regulations under section 36 of the Public Health Act by purporting to create criminal offences and penalties for those breaking the curfew rules. According to Omtatah, Section 27 of the Public Health Act expressly provides that such measures be subjected to public participation before any drastic actions affecting the public are implemented. He argued the state of affairs constituted a gross violation of the Constitution and wants the court to ease the restrictions.
SEE ALSO: Key takeaways from President Uhuru's economy reopening speech