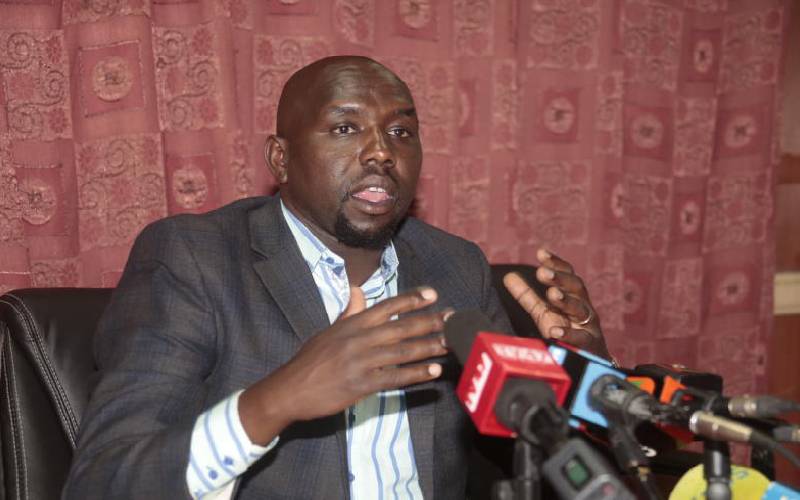 Ousted Jubilee Senate Majority Leader Kipchumba Murkomen and Majority whip Susan Kihika have rubbished their ousters saying it was illegally done. Speaking to the media a few hours after the State House meeting where they were voted out, Murkomen said the senators did not follow due process in voting them out and therefore they remain the bonafide Majority leader in the Senate and Majority Whip respectively. Murkomen said that they cannot be ousted illegally neither can the new office bearers be elected through a flawed process.
SEE ALSO: Jubilee puts Kihika, Ngunjiri on notice
"The purported argument that we were voted out is preposterous, laughable and the biggest joke you can have in this part of the town," said the angry Elegoyo Marakwet Senator. The two senators also dismissed as illegal the coalition between Jubilee and Kanu. Murkomen maintained that according to article 32 of the party's constitution, before any coalition, the party' NEC must meet and a negotiation committee named to steer the process. "There is purported a coalition which is illegal there must be a NEC meeting, you must appoint a coalition negotiation committee," he said. Murkomen added that Kihika and himself are members of the NEC and there has never been a meeting for the last three years.
SEE ALSO: Reproductive and Health Bill 2019 should be looked at objectively
"I can confirm that Senator Kihik and I are members of Jubilee NEC and we have never met for the last three years," he said. Kihika dismissed the purported ouster saying only 11 senators attended the State House meeting. She told the media to find out how many senators attended the State House meeting "Dig for information about how many senators were in State House in the morning. Where is their photos and their list of those who attended the meeting we are being told?" She accused their colleagues who attended the State House meeting of planning to forge the signatures of those who skipped the meeting to sanitise their evil plans.
SEE ALSO: "I harbour no ill feelings," Duale's moving exit speech
"They want to forge the signators, this is a network of wakora," she said. Kihika claimed most of them were not invited in the meeting, adding that even the agenda of the meeting was not clear. She said they will not allow the party to be run like a family property yet there are organs that should manage the affairs of the party. On Monday, President Uhuru Kenyatta chaired Jubilee Senate Parliamentary Group meeting which ousted all Deputy President William Ruto allies in powerful slots. The State House meeting, which also included Kanu senators who attended after a coalition agreement with Jubilee replaced Murkomen with West Pokot Senator Samuel Poghisio as the Senate Majority Leader and Kihika with Muranga Senator Irungu Kangata as the Majority Whip.