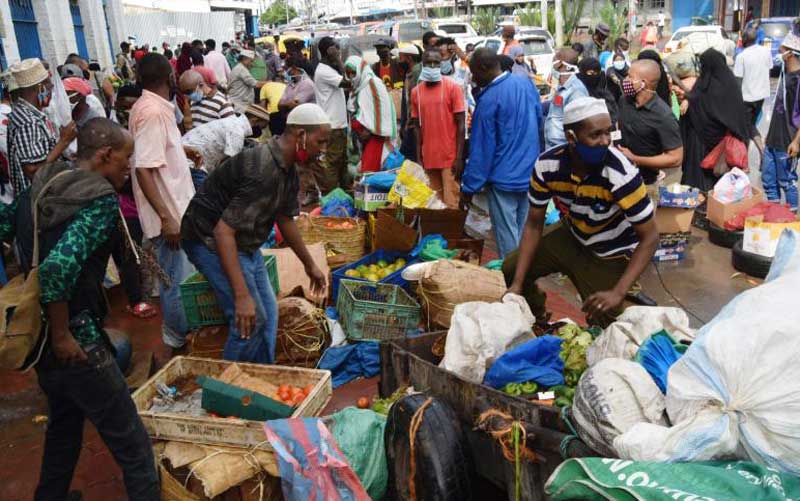 As Mombasa's Old Town went into a lockdown on Wednesday, five people who tested positive for Covid-19 slipped out with their families and vanished. The five, whose identities were not disclosed, were among the last group of 65 to be tested in the area at the weekend. They had volunteered their samples but did not wait for the results. "Five people who tested positive have gone into hiding instead of coming to our facilities," said Governor Hassan Joho. Mr Joho appealed to them to return and warned they will be pursued should they not heed the call.
SEE ALSO: State was mistaken in cancelling 2020 academic year
"The law will take its course but we would like them to return so that they can be taken in for treatment," he said. All the missing families come from Sijara in Bondeni, where a herbalist who died from the virus also lived. The lockdown was announced by Health CS Mutahi Kagwe to combat the spread of the disease in the area, which had recorded 73 positive cases by Wednesday amid resistance by residents against mass testing. Old Town's markets and shopping malls were shut as business ground to a halt on Wednesday night. Yesterday, several well-wishers, including Opposition leader Raila Odinga, made donations towards the Mombasa County Emergency Household Relief and Nutrition Support Programme.
SEE ALSO: Two Madagascar lawmakers die with coronavirus
Raila's donation of a truck load of maize and wheat flour was conveyed to Joho by Mombasa businessman Suleiman Shahbal. Others who made similar donations include Abagusii Community in Mombasa, Toyota Kenya, Youth Drive and Sisi Kwa Sisi group.
New hospital
Old Town's narrow streets were deserted, with thousands staying indoors amid a heavy police deployment at all exits and entrances. No major incidents were reported by the police as the State announced the launch of a new hospital inside the 78-square-kilometre old town of 28,000 residents. The temporary hospital will handle all ailments except Covid-19. Joho said the County Health Department has already seconded medical personnel and provided medicine to the new centre that will attend to emergency cases.
SEE ALSO: US man, 30, dies from virus after attending 'COVID party'
County Chief Medical Officer Khadija Shikelly said the clinic would be open today. "The clinic opens its doors to those seeking medical attention from 7am upto to 5pm," Dr Shikelly said. She said there shall be screening booths for Covid-19 and urged people to volunteer for testing. Shikelly said people requiring quarantine and whose households meet the threshold will be allowed to self-quarantine in their own homes and the houses will be marked. Governor Joho also said they will ensure there is adequate fresh drinking water for the locals and they will also set up satellite markets where families can buy daily provisions. "These markets where one can buy meat and fresh farm produce like vegetables are at the entrance to the Old Port, Piggot Place and Mswalani Mosque," he said. Two hotline numbers have also been established to help those in distress from Old Town area. The numbers, according to Haki Africa Executive Director Hussein Khalid, are 0755000555 and 0100001001 and they are operational on a 24-hour basis. Joho reminded Old Town residents that he was not at war with them but with the novel coronavirus. "Our common enemy is Covid-19. So let us all pool our energies and resources towards fighting this pandemic. We should have no time for sideshows during this period," he said. Mombasa County Commissioner Gilbert Kitiyo said the lockdown was not a punishment being meted out on the residents, but a measure to control and stop the spread of the virus. "Please take note that both the national and county governments have no ill intentions. It is designed to ensure the disease does not spread," Mr Kitiyo said, and added that they were aware some Old Town residents left their premises after the lockdown was announced. Mombasa Island's main fresh produce market, Marikiti, was also closed down. The market, near the Digo Road roundabout, has over 500 registered businesses and serves over 50,000 people daily, according to the county government statistics.
[Philip Mwakio, Benard Sanga and Joackim Bwana]