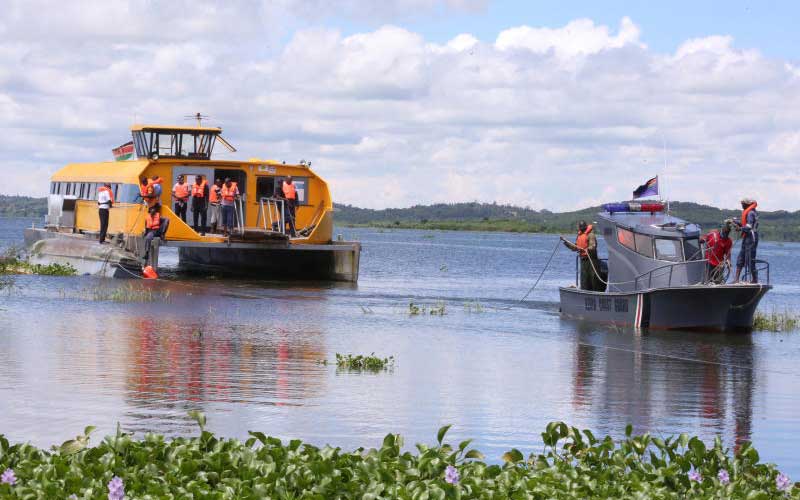 Passengers who nearly drowned in Lake Victoria after a ferry they were travelling was involved in an accident have described their rescue as a miracle even as details emerge about the incident that has been blamed on bad weather. Kenya Maritime officials who investigated the Saturday evening incident said the Ferry-MV Ringiti broke into three and sank after being hit by turbulent waves due to bad weather. The ferry commonly referred to by locals as 'Water Bus' because its form resembles that of a bus was sailing from Mageta Island when the accident happened at 5pm.
SEE ALSO: Kisumu is zoonotic diseases hotspot
The exact number of passengers and crew which was on board is still unknown. While fishermen and beach managers involved in rescue operations said they rescued 20 people - 15 passengers and five crew members, the ferry management and KMA officials said only 15 were on board. A police report issued earlier had put the number at eight, saying there were no casualties as all those on board were rescued. Images of terrified passengers clinging on to the sinking ferry emerged yesterday as survivors recounted their harrowing ordeal. "It was hell on earth. I saw death coming. We are lucky to be alive," said Paul Otieno, a crew member of the ill-fated vessel.
SEE ALSO: For flood victims, it's a long wait for 'normalcy'
Otieno, who helped rescue his fellow four crew members and passengers said the journey from Mageta Island had been smooth "but I heard a sudden bang that was followed by the wailing of passengers who were shouting 'we are sinking'." He said all hell broke loose as some passengers jumped into the lake as others wailed uncontrollably. "Some of the passengers did not have life jackets and our crew swung into action and gave them the jackets as we rescued those who had jumped into the water," Otieno, who has been the vessel's driver for five years, said. His account matched that of Martin Siso, a witness, who credited the crew for their quick response which led to the rescue of the passengers. "We were on a passenger boat from Usenge to Mageta when we we saw the water-bus between Usenge and Sirigombe Island," said Siso.
SEE ALSO: Homa Bay women to benefit from Sh11m cage fish farming project
He said the vessel appeared unstable as it was being tossed about by the waves. Suddenly, it started sinking and loud screams rent the air. Siso and Jacob Owaki, a coxswain who was navigating a commercial motorboat led rescue efforts. Siso told
The Standard
that they left Usenge at around 4.30pm, with Mageta Island Senior Chief Ambrose Ogema who said they later heard a loud explosion before they saw a cloud of thick smoke. The chief said all the travellers were rescued and taken to Kabarua beach and then to Mageta Health Centre. "The rescue was successful because the ferry had life jackets for all on board, otherwise it would have been a different story now," Owaki said. According to Henry Okamo, the captain of the vessel, he had left Mahanga beach in Mageta island when the lake became rough. "This was our last trip to Usenge and there were no signs of mechanical problems with the vessel," he narrated. He added that they hit by a strong wave near Sirigombe island and then heard a bang before the lower part of the vessel drifted away. Water Bus East Africa that manages the ferry attributed the accident to bad weather. Annie Ng'ang'a, the company's Business Development Manager, said their vessels are regularly serviced and are KMA-certified having complied with all requirements. Yesterday, a team from KMA, Kenya Coast Guard Services and Beach Management Units conducted an operation to retrieve what remained of the vessel.