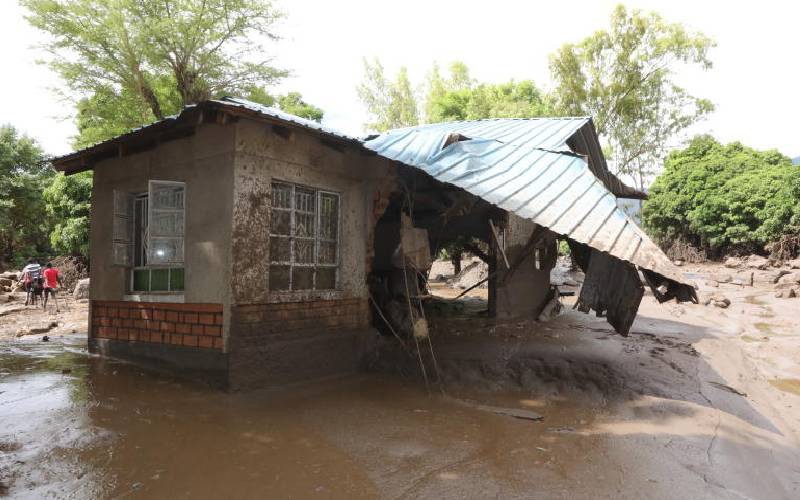 Twenty-four people, including one police officer, are still missing following massive landslides on Saturday evening that hit Kipchumwa and Chesegon villages on the border of Elgeyo Marakwet and West Pokot counties.
Survivors yesterday narrated horrendous ordeals following torrential rains that left four people dead and 18 injured.
At least 4,000 people have been displaced.
Villagers yesterday rummaged through the debris hoping to find their loved ones buried alive by huge rocks and mud.
Dismembered body parts and carcasses of livestock were seen trapped beneath boulders and tree branches.
Property worth millions of shillings was also destroyed in the night of horror that left iconic Chesegon market, known for peace building between Marakwet and Pokot communities, buried under deluge of mud.
Survivors gave chilling accounts of how they survived the landslide that occurred spontaneously at Kipchumwa and Cheptulel hills.
Sarah Nekesa, a wife of a police officer attached Chesegon Police Post, survived with her six-month-old baby by clinging onto a tree's branch for more than three hours as she witnessed some villagers and property being swept by raging waters.
Rumbling sound
Yesterday she recollected that at around 4pm, she heard a rumbling sound while she was inside her house together with her husband, an officer in charge of the armoury at the police post.
"When I opened the door, I saw raging water and rocks rolling furiously towards our house. I screamed and asked my husband who was sleeping with the child to come out immediately. He almost ignored my distress calls saying it was ordinary floods experienced in the area," she said.
She added: "When a huge boulder hit a neighbouring house, he came out holding the child and rushed to safety, but on second thought he went back inside saying he had forgotten the keys to the armoury. I asked him to hand over the child."
Nekesa said it was the last time she heard from her husband, who had, before returning to the house, hurriedly handed over the baby.
"After I took the baby, we ran to safety, leaving him behind. I don't know about his whereabouts," she said.
Nekesa said she climbed over a brick wall, which was soon engulfed by the raging waters, but through sheer luck, she managed to reach for tree branch and held onto it for roughly three hours before she was rescued.
"The ordeal will remain one of my worst nightmares. Though I escaped unscathed, the incident has left me with bad memories," she added.
Benson Loriwonyan, another survivor at Cheptulel village, said he had gone to a posho mill in Chesegon market to grind maize for his family when the calamity struck.
"We heard an unusual rumbling sound, akin to a huge airplane. When I set out to check, I was met with huge rocks rolling downhill. I rushed back inside and alerted those who were in the posho mill to quickly save themselves from the oncoming floods," the father of one told The Standard yesterday.
Together with those who were in the posho mill, they navigated though the pilling rubble and took refuge at a local ACK church.
No sooner had they entered the church compound than the walls of the church caved in and the flood waters swept him and five others downhill.
"It's by luck that we found ourselves clinging onto the branches of thorny acacia trees," he said.
Loriwonyan said while on the tree branches together with the other survivors, they prayed to God to save them.
"I remember telling one of the ladies who were also holding onto the branches that we should confess our sins and ask God to spare us from being swept away by the floods," Loriwonyan said.
At Chesegon, mud flattened the trading centre that had been in existence for more than eight decades. Virtually all buildings were destroyed.
The trading centre, which ordinarily hosts more than 500 people in a day, was left under rubble that stretched over six kilometres. The mudslides also flattened learning institutions, including Liter Girls' School, and Chesegon Police Post.
Rescuers had a huge task of removing boulders to try and find bodies trapped under the rubble.
4 policemen alive
Four policemen who were found buried six kilometres from Chesegon were yesterday morning found alive and airlifted to Moi Teaching and Referral Hospital in Eldoret.
West Pokot Governor John Lonyangapuo and his Elgeyo Marakwet counterpart Alex Tolgos, who accompanied Rift Valley Regional Coordinator George Natembeya to the area, pledged humanitarian aid to the affected families.
Prof Lonyangapuo said the county government would provide relief food and shelter to the affected families and urged other humanitarian agencies to step in and support the victims.
Natembeya said they had established command centres at Cheptulel Primary in West Pokot and Sambalat in Elgeyo Mawakert to coordinate the rescue and humanitarian assistance to the affected families.
Elgeyo Marakwet Senator Kipchumba Murkomen said he would rally his colleagues in Parliament to pass a Bill to compel the government to move all people living in escapements in Elgeyo Marakwet and West Pokot. "I will rally my colleagues in Parliament to pass a Motion to compel government to resettle all families living in landslide prone areas in West Pokot, Elgeyo Marakwet and Baringo counties to stop the cycle of disasters every rainy season," Murkomen said.