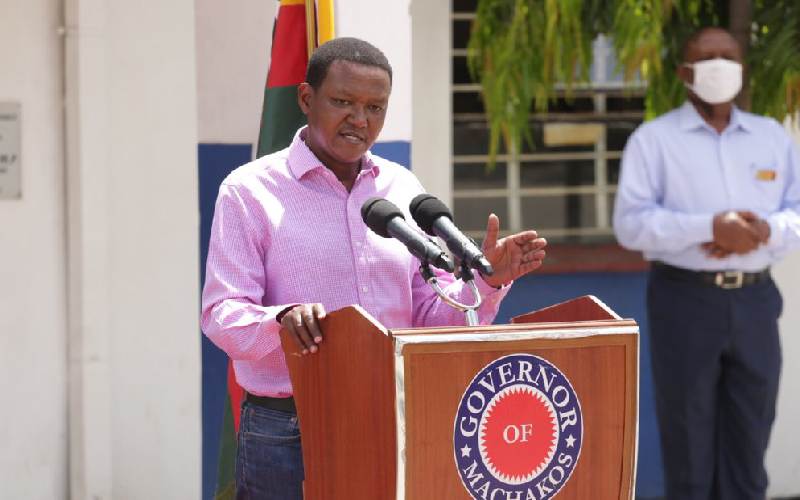 Machakos Governor Alfred Mutua has dismissed directive by the Salaries and Remuneration Commission (SRC) against his administration's plan to offer health working a motivational allowance to bolster the war against Coronavirus disease. Speaking during a press briefing at his Athi River office, Mavoko, Mutua defended his decision to pay medics working in Machakos county a motivational allowance ranging from Sh5,000 to Sh20,000, saying it was informed the severity of the dangers posed on them as the front liners in the unprecedented fight against Coronavirus. "I have been taken aback by a circular addressed to the Council of Governors (CoG) by SRC advising against payment of these allowances. In my respectful opinion, this circular is not only in bad taste but also out of tune with the mood and best interest of the country,'" he said. Mutua said health workers are the most vital component in the fight against the deadly virus hence the need to motivate them to win the war against Covid-19.
SEE ALSO: Governors are not special, say MCAs
"Health workers are central to any health system. Even if we had state-of-the-art equipment, drugs and hospitals, they cannot function without the requisite professionals," he said. He accused SRC of overstepping its mandate, saying they have got no power to impose their decisions on county government more so at a time when all efforts are channelled towards the Coronavirus pandemic. "SRC mandate is to set and regularly review the remuneration and benefits of all State officers and advise the national and county governments on the same not to prefect us." Mutua said he will go ahead and pay medics working in Machakos motivational allowance to boost their morale in combating the disease. "Machakos government will continue to provide allowances to our health workers and will even look for other ways of motivating them. I will not be cowed by letters from people who are not in touch with the reality on the ground," he said.
SEE ALSO: Reopening riddle as infections rise to 6,190
He further called on the country to re-examine the role of the commission and whether the country needs it. "We may need as a country to reconsider whether we need the SCR or it is just another bureaucratic agency slowing down development in Kenya," he stated. He also cited Article 159 (2) of the Constitution, which called for a look at the bigger picture of substantive justice and not procedural technicalities while making decisions. The SRC, in its letter to the CoG, had questioned the legality regarding any monetary incentive set to be awarded to health workers. "Whereas the commission is cognisant of the challenges faced by the health professionals in the fight against Covid-19, it is concerned that due process has to be followed in the introduction of any new allowances, by way of seeking advice from the commission as required by law," read SRC letter to CoG.