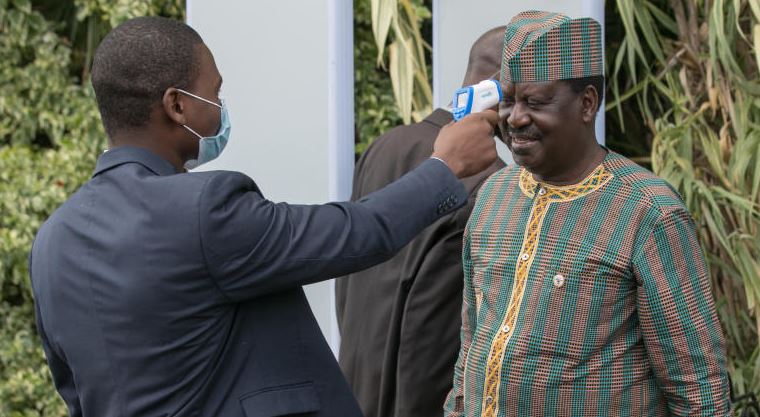 Former Prime Minister Raila Odinga yesterday said the Covid-19 pandemic has exposed Kenya's broken health system in the devolved structures. Raila has also challenged genuine philanthropists and researchers to come to the country's aid. The opposition chief also chided leaders, whom he described as 'purported new country's philanthropists', for thronging churches across the country making huge donations only to retreat to their 'humble abode' when needy Kenyans need their help. Without naming the politicians, he urged them to help curb the pandemic as opposed to trying to gain political mileage in every situation.
SEE ALSO: Business as usual attitude not good for vibrant sector
Thinly veiled attack
Speaking a day after Deputy President William Ruto addressed the nation on the pandemic and measures put in place by government, Raila challenged his wing to join him and others in seeking help for the public. "This is the time leadership is needed not only visibility when opposing things. We should give service and teach the public on the dos and dont's," he said. "Every weekend we used to see leaders in churches making donations. Now that there are no church services they have retreated to sleeping at home, waiting for the situation to normalise and resume the practice." Raila asked the politicians to demonstrate servant leadership by channeling their contributions to Kenyans in low income areas like Kibra, Kangemi, Kawangwere, Mukuru kwa Ngenga, Embakasi and Mathare in Nairobi counties and escalate to others in Mombasa, Nakuru, Eldoret and Kakamega.
SEE ALSO: We've to mend the wrongs or crumble under Covid-19
"I cannot do it alone and not without friends.
Haba na haba, hujaza kibaba. I
call on my colleagues to unite and let us assists our people get water, food and medication," he urged. In a broadcast interview, the former PM also challenged institutions of higher learning in the country, to stand out and be counted among global intellects for undertaking independence research to find Coronavirus cure. "Countries like Uganda and Rwanda are doing research, why not Kenya? As our institutions complain over funding, countries like the USA are putting pressure universities and banking on researchers there to find solutions to the epidemic," he faulted. Raila said the institutions should not always rely on government funding to do research but should innovate and embrace new technologies. "The government helps those who help themselves. It's also a biblical say. Countries like Japan, India, Israel, England and USA have turned to their researcher, Kenya should so the same," he appealed. Tackling a myriad of issues affecting Kenyans, on a local Radio Station, including possibility of a total lockdown, Raila pitched for early preparations by government to cushion Kenyans against hunger and disease.
SEE ALSO: Counties should go extra mile to tame Covid-19
Political scores
"The situation in the healthcare service in the counties is an embarrassment and a challenge. "The Covid-19 pandemic should be a lesson to us as a country on the changes to make. Though we envisaged to have Level Five hospitals, some have wards without Intensive Care Units (ICUs)," observed Odinga. "We should now have Level Five hospitals in all the 290 constituencies with adequate capacity to handle every disease. This is where we should start." Raila also backed Agriculture Cabinet Secretary Peter Munya's decision to import four million bags of maize for human consumption and the remaining being yellow for animal feeds. On the controversy of MPs infected by the virus, Odinga cautioned against using it to settle political scores. "Some are malicious. This is scare mongering. If I turn positive I will not have a problem admitting the same and seeking treatment in isolation, instead of resorting to dirty politics," he said. Raila said other world leaders, who tested positive or were in contact with patients of Covid-19, have said as much.