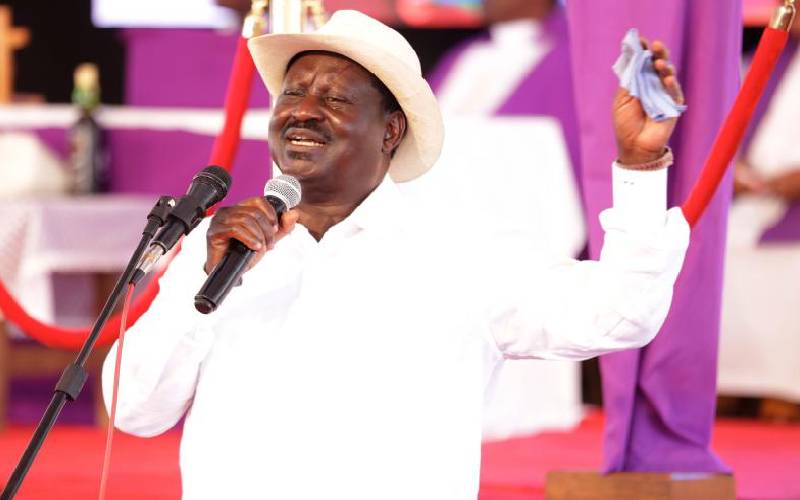 Politics
The ODM leader says the BBI task force is finalising the report
ODM leader Raila Odinga has dismissed reports that the Coronavirus pandemic has stopped the Building Bridges Initiative (BBI) and told Kenyans to prepare for a referendum after the pandemic. Raila said the break the process took is like half time during a football match and cannot be misconstrued to mean the end of a match. "If the referee blows the whistle for half time during a football match for players to go and rest, do you say the match is over?" Raila posed adding that reggae will resume with a bang after the virus is managed. Speaking during an interview with a local radio station on Friday, said the BBI task force is currently finalising the report and that once the pandemic is managed, everything will resume.
SEE ALSO: Raila Odinga protests probe against bank executive
He said the BBI consultative forums had been conducted in most parts of the country by the time they called for the suspension and that the debate is on course. "We were only left with Rift Valley and Nairobi for the report to be complete and the team is finalising things," he said. He said the BBI report only awaits presentation to the government and Parliament before being taken to the people to decide through a referendum. "We are almost there, the report will be presented to the government for implementation before being taken Parliament to come up with a bill before subjecting it to a referendum. Raila urged organisations and leaders to help struggling Kenyans during the pandemic through donations.
SEE ALSO: Tactical retreat or slow surrender: What next for DP Ruto after purge?
"We have many struggling Kenyans in the country mostly in slum settlements, let us help them with the little we have as the government tries to contain the spread of the virus." The AU special envoy said he was confident measures taken by the government against the pandemic will help the country deal with the virus and that soon life will return to normalcy.
BBI rallies
BBI rally that was scheduled for Nakuru on March 21 was cancelled after Kenya confirmed its first case of the deadly Coronavirus. Making the announcement, Health Cabinet Secretary Mutahi Kagwe said that all public gatherings had been suspended in a strategy to tame the spread of the disease.