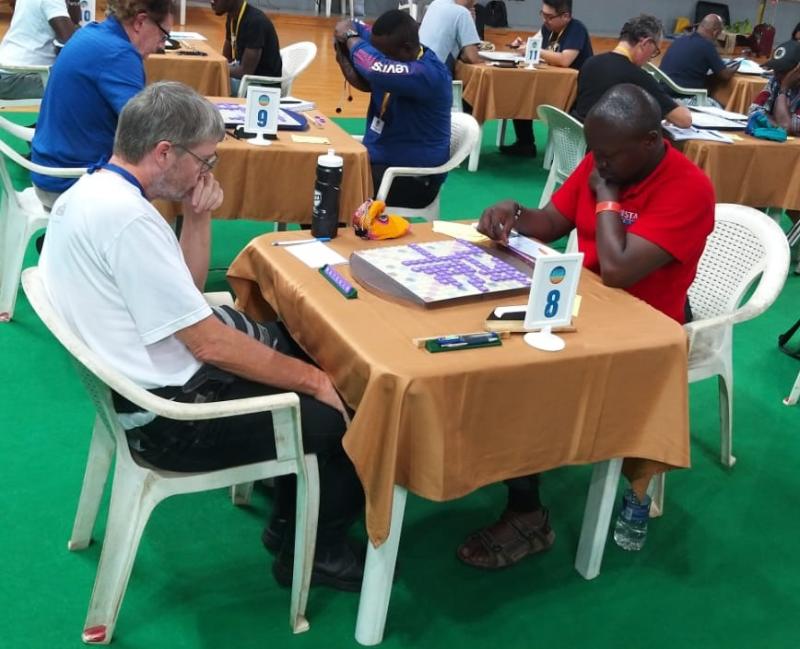 Sports
Allan Oyende is a familiar face in scrabble events in Kenya and Africa.
Allan Oyende
is a familiar face in scrabble events in Kenya and Africa. The 38-year-old East Africa seed two lead the national scrabble team in registering their best finish in a decade when Kenya was ranked third in Africa at the World English-Language Scrabble Players Association Championship (WESPAC) in Goa India last year. The Kenya seed two is also the Nairobi Scrabble League defending champion, East, Central and South Africa Scrabble Championships (ECASA) five-time winner and is looking forward to reclaiming the East Africa seed one title he lost to Nderitu Gitonga after a slow start to 2020. After missing the first circuit of the 2020 season, the Nairobi National Scrabble Circuit in January, Oyende finished a distanced sixth during the second national circuit in Kitui(February) before striking back to win the third national circuit in Bungoma in March.
SEE ALSO: Scrabble: Players resort to use internet in absence of matches
He's one of those people we're incredibly fortunate to have involved in the game as, not only has Scrabble made a positive impact on his own life, but he's also prepared to make a contribution back, as he tells
Standard Sports
here:
Tell us a little about yourself, Oyende.
I was born in Kariobangi. I come from Kisii, Bomachoge. I was brought up in Ongata Rongai after our family moved there when I was 2-years-old. I went to St Nicholas Primary and later joined Starehe Boys Centre before joining University of Nairobi where I graduated with a Degree in Civil Engineering.
How long have you been playing Scrabble, and what first got you interested in the game?
I've played Scrabble for as long as I can remember. As a kid, I used to play casual scrabble when we were in primary and secondary school. I had no idea we had a scrabble club, tournament or dictionary then.
SEE ALSO: Scrabble: Oyende strikes to win Bungoma national circuit
It was not until while in university in 2007, as I was job hunting, that I went to South C in Nairobi and picked up the game as a way out for my frustrations. I insisted on playing game after game and played by myself when no one else would play with me because I was the weakest. The same year I played my first tournament and won nine out of 18 rounds.
What has been your biggest challenge?
That it is English. There is very little English in scrabble. Math is significantly more important in this mind game rather than the word itself. Time too. I wish I had more time.
What are your interests outside Scrabble?
SEE ALSO: Gitonga upbeat as Bungoma hosts third national scrabble circuit
I am a Civil Engineer by profession. I love travelling, watching football and reading books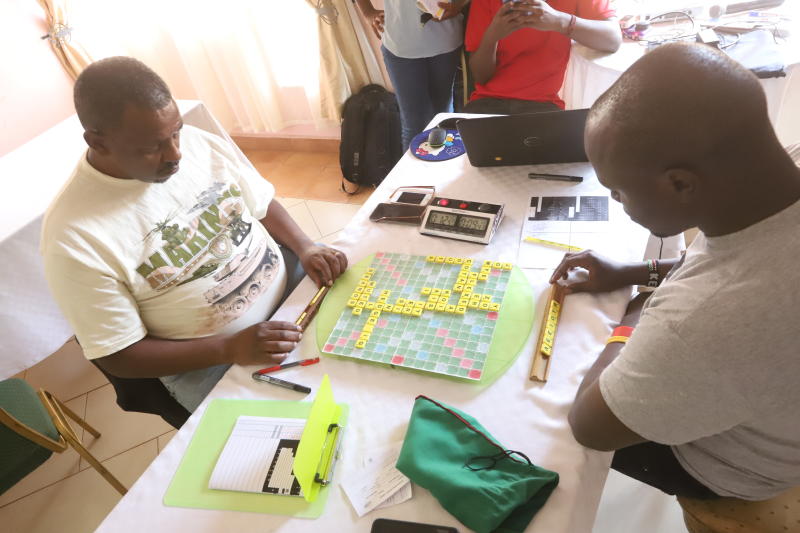 Now, is Scrabble beneficial for young people and family?
Yes. Scrabble is an easy and fun way to boost your child's language ability and teach them important life skills, the fun way. It boosts their concentration, creativity, basic mathematical ability and fosters learning through play among others. For families, playing this board game helps to foster communication, competitiveness and confidence among relatives.
And is it important for old people to actively play Scrabble?
Absolutely. A game of Scrabble can do wonderful things for the brain and memory, while also promoting feel-good emotions, lowering the chance of getting sick and reducing blood pressure. Elders with memory or cognitive problems can especially benefit from regularly playing this game. It lowers the risk of mental illness, reduces blood pressure, improves memory and makes you happy because board games, such as Scrabble, are a fun activity since chances are there will also be a great deal of laughing during the game.
How is Scrabble beneficial to students?
It improves their English and cognitive abilities Spell check-in apps has made people lazy.
What are some of the benefits of playing Scrabble?
It helps delay senility and dementia. That is, it improves the physical and mental decline associated with old age especially the deterioration of cognitive functioning associated with old age. It also helps prevent a decline in memory or other thinking skills severe enough to reduce a person's ability to perform everyday activities. It helps by generally jogging the mind. If you could choose some entrance music to accompany you to the board during a tournament, what would it be? Rhumba. I love the beats which put me on the mood.
Where do you see yourself five years from now?
Not sure. I can only work hard and see how far we can go. But my goal is to win gold for Kenya in the upcoming East, Central and South Africa Scrabble Championships (ECASA) in Lusaka and World English Scrabble Players Association (WESPAC) in Goa.
Which player has been your most difficult opponent?
In Kenya, it would be my long time opponent and friend Nderitu Gitonga. His word knowledge and strategy are very impressive. Out of Kenya it will be Nigel Richards of New Zealand, he has won four of our six meets.
Who is your role model?
That will have to be Nigel Richards. He is a New Zealand player who is undoubtedly the best player ever. Additionally, Joash Manyasa has also been instrumental in providing us with our practising venue back then.
If you are stuck in a lift, which person would you like to get stuck with?
My girlfriend Evelyn Gathoni. She means everything to me.
What is your favourite meal?
Fish with Ugali any day anytime. (Laughs)
What one thing can't you leave the house without?
Obviously my phone! I'm addicted to it
What do you like to do on your day off? And where do you like to go?
I play scrabble, scrabble and more scrabble. I don't like going out, mostly I sit and watch a good series at home.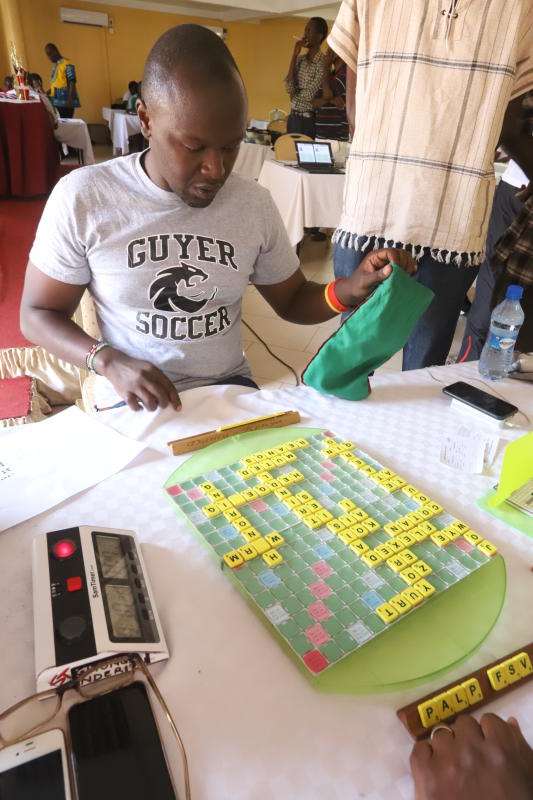 When was your first kiss?
It is always with your neighbour next door. (Laughs) I can't remember her name.
Who do you think is the best sportsman/woman of all time and why do you think so?
Kipchoge Keino. He set the pace for the rest. He is a true legend
If you had a choice of a country to be born in, which one will it be?
Kenya all day anytime.
Do you have any competitive desire to play abroad?
Of course, that's a dream of each and every player in Kenya.
If not Scrabble, which game would you have played?
Chess. I am in love with mind games. They engage the brain.
Given chance, what would you change in the Scrabble Kenya?
More involvement from the government. In the recent past, we have had to go to international tournaments representing the country with little or no sponsorship. There has been an improvement from 12 years ago when I started playing but I still feel more could be done to develop and promote indoor games. The government spends a lot of money on outdoor games than on indoor games that should change.
What's the most embarrassing moment in your career?
I try not to embarrass myself. But one of them has to be a rumbling stomach on a first date. (Laughs shyly)
How do you want the world to remember you in sports?
The man who played fairly and his best at all times. Humble, generous and the champion who inspired younger players. I just pray for more life to do great things not only for myself but others too.