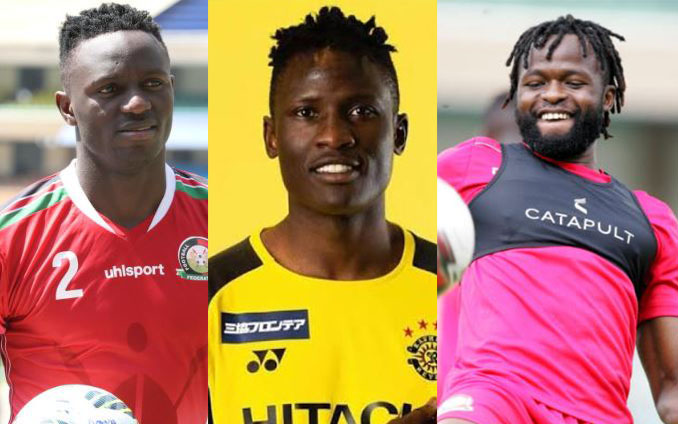 Football
It has been 25 days since the first case of the novel coronavirus was announced in Kenya.
It has been 25 days since the first case of the novel coronavirus was announced in Kenya. As of 12:01 pm Tuesday, April 7, the COVID-19 pandemic had claimed two lives, infected 158 with 4 making recoveries. With close to a month of its rapid spread, the coronavirus has seen football associations worldwide pause their leagues, in a steady process that started with clubs allowing fixtures to go on behind closed doors. However, footballers too were vulnerable to the virus. The world's top leagues, followed by lower divisions ordered the postponement of matches, consequently postponement of the leagues themselves.
SEE ALSO: Why partnerships in technology are key in fighting pandemic
Football stopped, and for the first time in a long time, people were asked to stay in their homes as medical fraternities worked day and night to try contain the virus. Everyone's attention turned to helping combat and prevent the spread of Covid-19. FIFA, on Monday, March 16 rang its support to the World Health Organisation (WHO) by introducing a responsiveness campaign that would help tackle the virus. "We all know the situation with the coronavirus is a serious one, and we need to put health first. These are the five key tactics to tackle the coronavirus, and I urge you to follow with discipline at all times, these five key tactics," said FIFA Chief of Global Football Development Arsène Wenger, who will have the assistance of five other trainers united behind the five-step game plan to defeat the virus.
CLOSER HOME
In Kenya, President Uhuru Kenyatta moved to announce the cessation of movement in and out of Nairobi, Mombasa Kwale and Kilifi counties for 21 days.
SEE ALSO: What if Kenyans knew Covid-19 was coming?
Movement within Nairobi, was permitted, however, with the 5am to 7pm curfew effected on Friday, March 26 still active. "We have taken these basic measures to protect the life and health of our citizens. If these actions are deemed inadequate, we shall take more drastic measures to ensure the rights of our citizens to life and property are maintained. Persons not authorised to move shall be prohibited within these hours," explained the President. Fast enough, the economic impact of the virus was felt across the globe. In Kenyan football, Football Kenya Federation resolved to suspend all sporting activities following the confirmation of the first COVID-19 case in the country. In a statement to newsrooms, FKF said: "Following the confirmation of the first Corona Virus (Covid-19) in Kenya, Football Kenya Federation has suspended FKF grassroots football competitions and women leagues including the Kenya Women Premier League, Women Division One League".
SEE ALSO: How coronavirus slashed trips to ATMs to an all-time low in April
Following the government's directive to stop sporting activities, FKF postponed three rounds of matches to the first week of April following consultations with the Ministry of Health. The State has also banned the use of the country's two biggest stadia - Kasarani and Nyayo.
Kenyan footballers take action on Covid-19 effect
With the wave of inconsistencies in daily income for the less fortunate and needy in society, many have been rendered either jobless or without basic needs. Kenyan footballers with a big heart saw this and offered a helping hand to informal settlements. Led by Harambee Stars and former Tottenham midfielder, now at Montreal Impact
Victor Wanyama
, they have resolved to help the needy stay afloat at medical professionals around the country dash to contain Covid-19.
SEE ALSO: Sacco relaxes loan terms for members as virus looms
Through the Victor Wanyama Foundation, the 28-year-old captain gave out food, sanitisers and handwash to residents in Mathare Slums in Partnership with the Red Cross.
"Many thanks to @gina_din @africayoga and @KenyaRedCross edcrosske who today have partnered with Victor Wanyama foundation to donate hygiene packages to the Billian Family Centre in Mathare. Together we will fight coronavirus!#KomeshaCorona #Staysafe #stayhome #COVID19" pic.twitter.com/yUzgsxBaJV

— Victor Wanyama Foundation (@VictorWanyamaF) March 27, 2020
"It is our role as footballers to play an active role in ensuring our people are okay during these difficult times. We know that the effects of the virus have had an adverse effect on their daily earnings," Wanyama explained to CAF.
Johannah Omollo
, who plays for Belgian club Cercle Brugge went back to Dandora Slum where he grew up. Through his foundation, he donated foodstuffs to the needy, helping them by during this virus-stricken period. As a foundation, we are determined to ensure everyone has access to basic needs as we continue urging them to stay at home and keep safe," Omollo said. Chairman Johana Omollo Foundation Godffrey Okoti (left) donate food to the elderly Grace Wanjiru at Dandora Youth group on Friday March 27, 2020. [Jonah Onyango, Standard[
SEE ALSO: Woman claims baby swapped with a dead one in hospital
Kenya international Eric Ouma 'Marcelo' who plies his trade for Swedish club AIK Fotboll donated hand sanitisers to youngsters in Kibera Slums. "In partnership with Nuria Store and Atotozs, we have decided to donate the hand sanitizers to Kibera Angels Soccer Academy in Kibra to help stop the spread of the coronavirus," Ouma said on Twitter.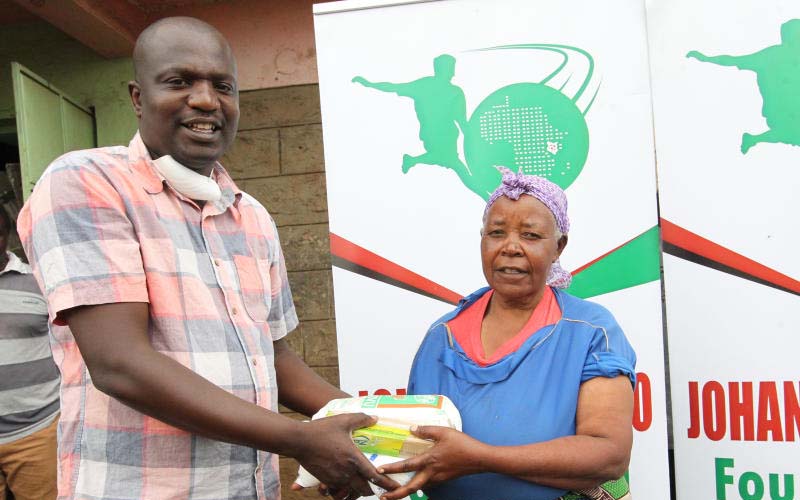 In partnership with Harambee Stars defender @marcelo_ouma and @NuriaStore, we visited Kibera Angels Soccer Academy at Woodley Grounds-Kibra Constituency, to donate hand sanitizers for those young Kings and Queens.

We move. pic.twitter.com/wtYH7nB3cS

— Zachary Oguda (@zaxoguda) March 21, 2020
Kenyan Simba SC (Tanzania) midfielder Francis Kahata also donated 10,000 litres of water to Mathare slum residents. With the common threat of water loss in slum areas Kahata explained why he decided to make the donation. "In the slum, one of the biggest problems is water and if we are to keep sanitation levels high, the most important thing is water. I partnered with one of the youth groups there and we filled up all their tanks. It's a serious virus and we have to all take precaution to avoid the spread. As we do this, we must remember the ones who cannot afford to for it on their own and that's why I saw the importance of coming here to make this donation," said Kahata.
Harambee Stars & Simba SC midfielder Francis Kahata today donated 10,000lts of clean water to Mathare 4B area towards the fight of Covid-19. His fans from the area had requested him to offer them clean water that they lacked. He obliged & honored his promise. #KahataFightsCovid19 pic.twitter.com/4ky2IIC8Mw

— Carol Radull (@CarolRadull) March 29, 2020
Kashiwa Reysol striker Michael Olunga also joined the fight against COVID-19 by donating handwash materials and sanitisers among other essentials to several estates in Naiorbi including Lucky Summer, BabaDogo, Kasabuni, Kariadudu, Riverside and Glucola. "It was my pleasure to lend a hand towards preventing the spread of COVID -19 by donating sanitizers and hand washes to small business owners, churches, carwash, children homes and a few households," said Olunga.
It was my pleasure to lend a hand towards preventing the spread of COVID -19 by donating sanitizers and hand washes to small business owners,church, carwash ,children home and a few household across , Lucky Summer, BabaDogo, Kasabuni, Kariadudu, Riverside and Glucola Estates. pic.twitter.com/bx8RFMOz52

— Ogada Olunga (@OgadaOlunga) April 2, 2020