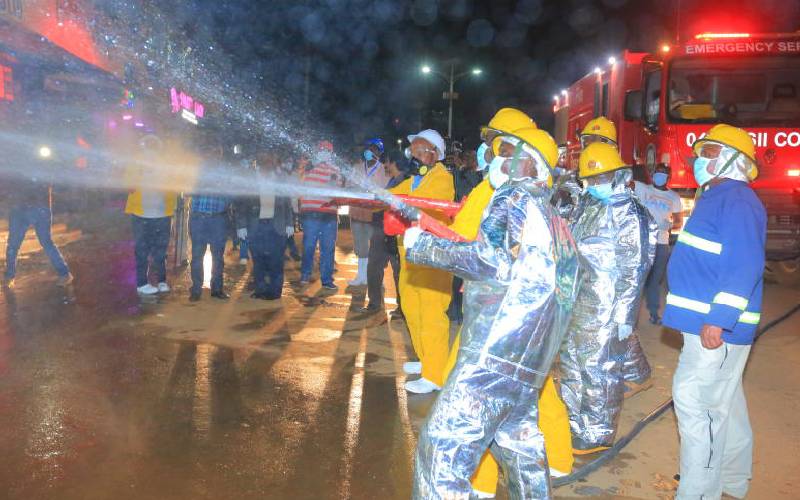 Nyanza
Governor Ongwae appeals to stakeholders to support efforts to combat the virus
Kisii county has embarked on the fumigation of Kisii town and its environs to help keep coronavirus at bay. The exercise will also extend to all major towns in the county to contain the disease that has posed a global challenge resulting in deaths of thousands. Governor James Ongwae hailed the Kisii town business community for supporting the fumigation exercise and appealed to more stakeholders to support the exercise to combat the virus. "My appeal is for more stakeholders to continue chipping in to support the government at both levels; County and National, in fighting the disease," he said.
SEE ALSO: WHO acknowledges 'evidence emerging' of airborne spread of COVID-19
Ongwae told members of the public to adhere to the Ministry of Health's guidelines including regular washing of hands, use of sanitizer and maintaining social distance to curb the spread of the disease. "I urge members of the public to follow guidelines issued Health ministry including washing of hands regularly and maintaining social distancing to shield themselves from the disease," said Ongwae. The county through the head of public service Patrick Lumumba and Administration executive Edinah Kangwana have directed sub county and ward administrators to ensure there are no public gatherings in their areas. Kangwana warned county officers who are not enforcing the government's directives to combat the virus, saying the culprits will be punished. "The Government's order to close all open markets remains. It won't be businesses as usual for our officers who ignore government directives," said Ms Kangwana.
SEE ALSO: Kenya's Wanyama could be in action once Major Soccer League resumes
County Public Health officer Dr Richard Onkware, encouraged citizens to stay at home and adhere to the government's directives for their safety. Dr Onkware said the county is using the World Health Organisation (WHO) best recommended chemical in the fumigation exercise. Further, the exercise will be carried out in all public areas in the nine sub counties.