Nairobi
The agency will mobilise resources for emergency response towards containing the spread, effects and impact of covid-19.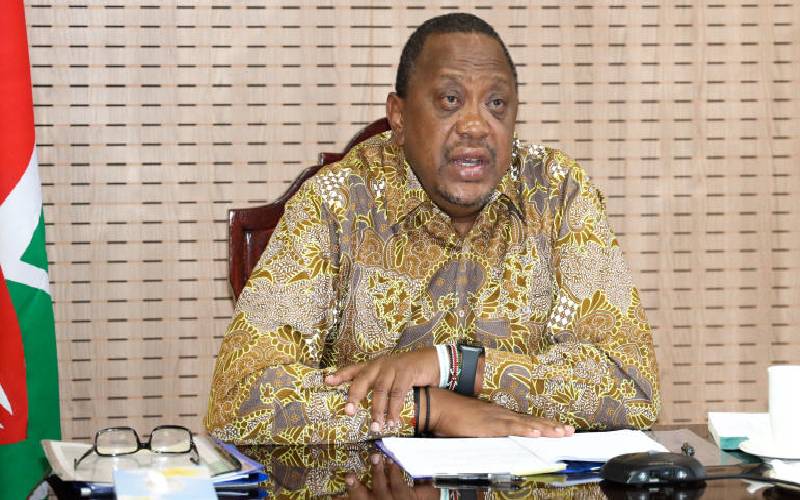 President Uhuru Kenyatta (pictured) has directed the National Treasury to set up a Covid-19 Emergency Response Fund.
The seed capital of the Fund shall be drawn from the Exchequer, including the voluntary salary-cuts undertaken by senior ranks of the Executive, Judiciary, Legislature and County Governments.
Uhuru set up a board to govern the fund to be led by Jane Karuku who has been nominated as the chairperson.
The fund will foster the national response to the Coronavirus pandemic, a statement from State House spokesperson Kanze Dena said on Monday evening.
The agency will mobilise resources for emergency response towards containing the spread, effects and impact of covid-19.
The Exchequer contributions will further be supplemented by donations from Kenyans and corporate entities, grants from development partners and multinational institutions.
Other nominated board members are Michael Joseph, Dr James Mwangi, Dr Narenda Raval, Joshua Oigara, Jeremy Awori, Wachira Waruru, Mohammed Hersi, Phyllis Wakiaga and Secretary Kennedy Kihara.
Interior Cabinet Secretary Fred Matiang'i and Kakamega Governor Wycliffe Oparanya have been listed as joint representatives of the Government.
Of the eight positive cases, one was a guest under mandatory quarantine, six others were close contacts of the 42 cases reported yesterday and the other from The Aga Khan Hospital.
Health Cabinet Secretary Mutahi Kagwe on Monday said Nairobi still leads in the number of cases as community transmissions spiked across the country.
Meanwhile, the
Law Society of Kenya
has filed a petition seeking to suspend the national curfew or have its starting time extended to 10pm.
The lawyers argue that the curfew will downside the probable gains made in fighting coronavirus, judging from the way the law enforcers have handled the members of the public, especially over the weekend.
On combating the spread of the coronavirus, the LSIK has commended the efforts by the government in containing the virus but has issued further recommendations.
The group argues that the government needs to intensify its data tracking by often communicating crucial details such as the number of health personnel per locations, response of patients and so on.
LSK through the petition mount more pressure on the Executive which has so far been criticised for announcing a curfew without preparatory measures.