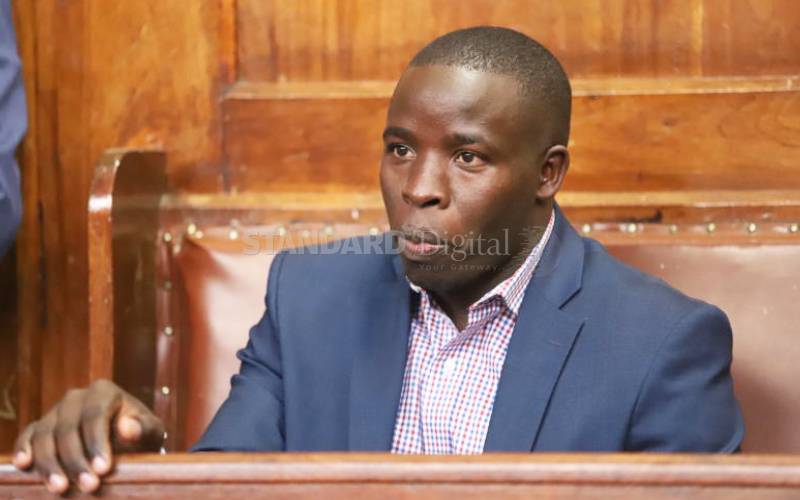 Nandi Governor Stephen Sang (pictured) and his deputy will take a 30 per cent pay cut for March and April.
The county leadership has agreed to take pay cuts and have the amount channeled to the coronavirus Emergency Fund Account.
The measures come as one more person tested positive for the coronavirus bringing the total number of confirmed cases in Kenya to 16.
The patient, according to Kagwe, came into contact with one of the eight cases that were reported yesterday – Sunday, March 22.
The Nandi county secretary, executive and chief officers will take a 25 per cent pay cut.
Funds raised will enable the county procure additional medical supplies and items needed to boost fight against coronavirus spread.
Nandi county traders have been warned against hiking food prices unfairly following the coronavirus pandemic.
In a statement to newsrooms on Monday evening, Governor Stephen Sang urged the traders to adhere to cleanliness and sanitation guidelines on food handling as directed by Public Health officials.
Water and sanitation services will not cut supply to homes and business premises "for whatever reason".
Sang said the directive is in line with calls to maintain hygiene to avert the spread of the highly infectious covid-19.
All Nandi county medical health staff studying at Moi and Nairobi universities for their postgraduate degrees have been urged to report back to the county within 24 hours.
Students at Moi University School of Medicine and UoN will report to the CEO and Health Chief Officer respectively for training and redeployment.
All health workers on leave were asked to report to their work stations.
Citizens who have arrived in the county within the last 21 days from countries with confirmed coronavirus cases were asked to call toll-free number 1548 for emergency response.
"We thank residents for being vigilant in identifying and reporting such arrivals...stern action will be taken against any person who does not abide by this directive."
Nandi County commissioner Kutswa Olaga maintained that police have embarked on enforcement of the government measures and making sure the regulations are implemented.
"We have closed bars and other open air markets in Tindiret and Aldai subcounties. We shall continue watching on those who will ignore the law," he said.