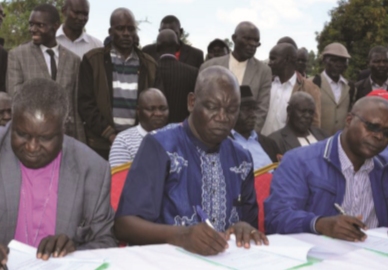 More than 10,000 farmers are set to begin growing cotton in the Western region as part of the ongoing cotton sensitization and rejuvenation program supported by Rivatex East Africa.
This is part of the agreement following the signing of a Memorandum of Understanding (MOU) between Rivatex and farmers from Teso North.
The move will see farmers bene?t from free seeds and pesticides to enable them to cultivate quality cotton.
The MOU was signed over the weekend at the textile facility witnessed by the Managing Director Professor Thomas Kipkurgat and Teso North MP Oku Kaunya.
Speaking after the factory tour and signing of the pact, Professor Kipkurgat said there is need for more partnerships with other regions that used to grow cotton in the past.
"It is also the intention and wish of the government that farmers bene?t and improve their lives that is why we want to continue sensitizing them to grow cotton and on our side, we will be buying from them," he said.
Kipkurgat said that they require more than 60,000 bales of cotton annually for the production of fabric to meet with the huge demand of locally manufactured products.
"So far, we have been able to sensitize 22 counties into going back to cotton farming. HomaBay is also part of the region that has expressed interest in cotton farming. Under the Big Four Agenda, the manufacturing sector requires raw materials to ensure that importation comes to a halt," he added.
Kaunya observed that the farmers will embark on cotton cultivation following an assurance by Rivatex of a ready market for their produce.
"We used to be productive in cotton farming years back but after the textile industry collapsed coupled with market failure and closing of ginneries, most farmers lost hope and stopped planting the cash crop. The MOU with Rivatex now gives us a lifeline to go back to the farms," said the MP.
"Our main aim as a region is to ensure that cotton growing is revamped. We are happy that the textile facility has assured farmers of favourable prices for their produce," he added.
Kaunya further called on the government to revive Katakwa ginnery situated in Teso region adding that it will play a critical role in processing raw cotton before it is sold to the textile facility.
"The revival will make it cheaper to avail the cotton to the factory and also improve livelihoods through value addition. Farmers will be in a position to get oil and animal feed from the cotton seedcake. Similarly, locals will get employment," said the MP.