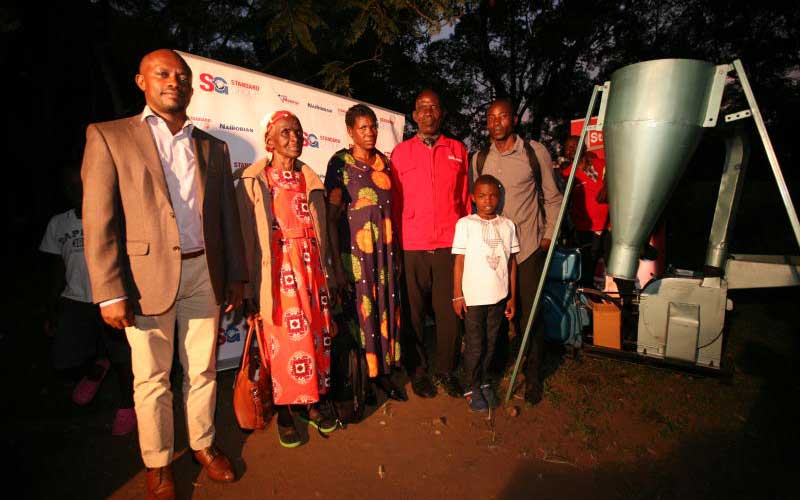 Nyanza
Odum,69, handed brand new posho mill to help him continue earning a living after retirement.
Walter Odum, one of Kenya's oldest newspaper vendors, has retired after 51 years of service. Mr Odum, 69, who has worked for Standard Media Group since 1968, was on Friday honoured by the company after selling his last copy of
The Standard
on September 30, last year. During the function at Kisumu Public Service Club, Standard Group chief executive Orlando Lyomo gifted Odum with a brand new posho mill for his distinguished service both to the company and readers. Odum, who was accompanied by his wife Rosemary Akoth and other family members, started selling the then East African Standard, Kenya's oldest newspaper, in 1968.
SEE ALSO: Seven killed, over 57,000 displaced as floods rage on
In July of the following year, he sold 200 copies by 10am. This followed the assassination of former Economic Planning minister Tom Mboya. The other time Odum sold many copies of the newspaper was after the killing of controversial Nyandarua North MP JM Kariuki, in 1975. He also sold 200 copies. "The East African Standard was bold in its reporting of the killing of the two prominent politicians. Even readers were satisfied with the way their deaths were covered by the newspaper," a nostalgic Odium said during the farewell party. "Then, journalists were bold and courageous. I appeal to our reporters today to borrow from them and bring out the good stories without fear," he said, acknowledging Standard Group's support to vendors over the years. He added: "We have educated our children through this job. We are happy with the support the company has given us."
SEE ALSO: Former 'Standard' editor dies after long illness
Kisumu newspaper vendors, led by their chairman Peter Mbawi, praised Standard Group for recognising their work and standing by them in times of need. "The Standard Group has set the pace. What they've done to Odum confirms they value vendors and the important role they play in the newspaper industry," said Mr Mbawi. He added: "We ask the CEO to convey our heartfelt gratitude to the Board of Directors. We are happy with this kind gesture to our colleague Mr Odum; it's a demonstration of true friendship." Mr Lyomu praised Odum for his distinguished service to the company, adding it was the company's policy to recognise and reward diligent vendors. The Standard Group's General Manager for Sales and Administration, Moses Ocholla, said the company decided to gift Odum with a posho mill to enable him continue earning a livelihood after retirement.