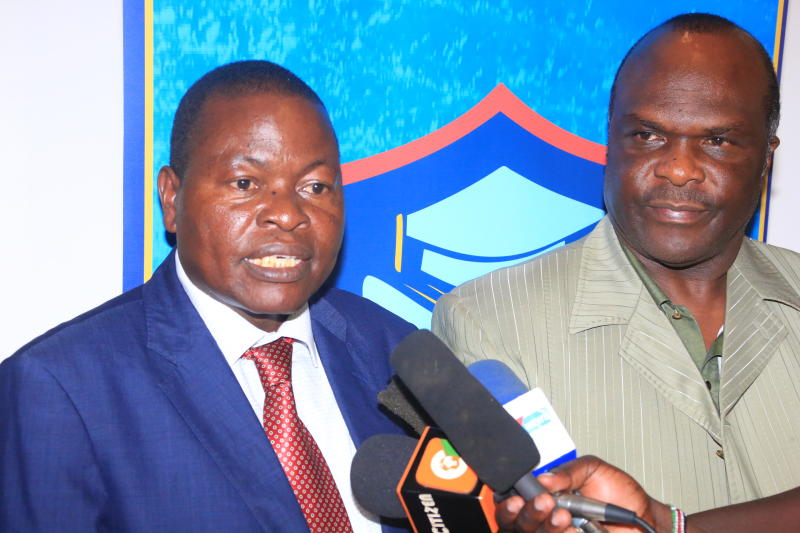 Opinion
Those who know Sossion well could see through his cheap ploy, which was expressly targeted to get him into the news as doing something.
Last week, Kenya National Union of Teachers (Knut) Secretary-General Wilson Sossion made repeated unpalatable claims over the mass transfer of teachers from North Eastern region occasioned by frequent terrorist attacks. On February 21, after Kenya Union of Post Primary Education Teachers (Kuppet) members held a massive demonstration to protest the insecurity in North Eastern, he accused the union of being part of "a scheme to sabotage" education in the region. He claimed the demo was part of the evidence for the said scheme and that it had been "sponsored" by the Teachers Service Commission (TSC) whose Chairperson Lydia Nzomo and Chief Executive Nancy Macharia, he said, were working in cahoots with Kuppet. "Constitutional office holders and State officers cannot sponsor demonstrations to defend their corrupt activities," he warned. Another 'evidence' of the scheme was Kuppet's rejection of the proposal by former Education Cabinet Secretary Amina Mohamed for the lowering of academic requirements for primary teacher training colleges (TTCs). In 2018, Dr Mohamed proposed that the KCSE entry grade for TTCs be lowered from C (plain) to D+.
No powers
The Cabinet secretary had no such powers and the move was manifestly unnecessary since hundreds of thousands of students (including thousands from North Eastern) had qualified for teacher training under prevailing guidelines. Kuppet successfully challenged the directive in court. The students who had enrolled with low grades were eventually discontinued. Sossion is now demanding that these former students (not all of whom are from North Eastern, by the way) be employed by TSC and deployed to North Eastern. Only Sossion knows under what criteria they would qualify for TSC employment. Ignoring the court's judgement, he has demanded that entry grades for TTCs for students from North Eastern be lowered – despite the fact that there are many recently qualified teachers from North Eastern who can take up the positions. Weeks earlier, Kuppet had urged TSC to employ all qualified teachers from North Eastern and deploy them, and transfer those currently serving in other parts of the country to the region until normalcy returns. These measures would be relaxed once security improved.
Distorted views
We also demanded a synchronised government-wide response to the terrorism from the Cabinet Secretary for Interior through a letter dated January 15 which was also well reported by the media. Throughout the crisis, our positions were informed by robust consultations with stakeholders in the region. On the other hand, Knut had hardly talked about the issue until after the Kuppet demo when Sossion condescendingly claimed to have "dispatched a high-level delegation of Knut leadership" to Mandera to understand the matter. Those who know Sossion well could see through his cheap ploy, which was expressly targeted to get him into the news as doing something. His wily calculations were made clearer on Sunday during the Garissa BBI rally, he doubled down on his distorted views – speaking in his capacity as an ODM Member of Parliament. He disingenuously laid the blame for the education crisis on the TSC and not the terrorists who have killed more than 40 teachers in the region over the past four years. He demanded 'affirmative action' in employment of teachers from North Eastern. As a union, we are gratified by the resounding rejection many Knut members have expressed over Sossion's irresponsible remarks on such an important subject of national security, human rights and cohesion. The secretary general has taken these futile positions out of desperation. He deludes himself that, being a Member of Parliament, he can still somehow marshal public opinion on issues by passing his misinformed views as Knut's. As Kuppet, we call upon leaders from North Eastern to lead community initiatives towards security promotion and the protection of non-local teachers. As things stand, the region is too dangerous for non-local teachers. We will not allow the TSC to send our brothers, sisters and friends to early death.
The writer is the Secretary General of Kuppet.