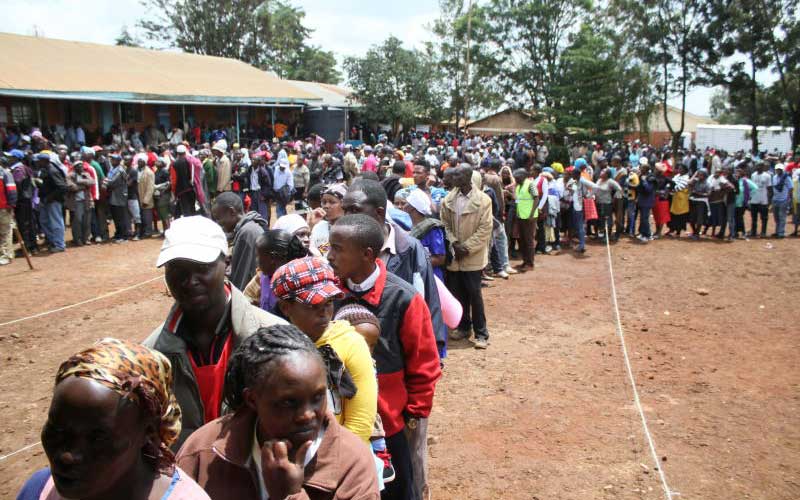 Some 14 counties could influence President Uhuru Kenyatta's successor as they account for more than half the potential voters in 2022. These are counties that will have an average of one million eligible voters each, with the register expected to have 29.6 million voters in the next General Election if all those aged above 18 are listed. Nairobi, Kiambu, Nakuru, Kakamega, Meru, Machakos and Bungoma counties lead with the highest number of eligible voters, in that order. The other counties rounding off the top 14 are Mombasa, Kisii, Kilifi, Uasin Gishu, Kajiado, Murang'a and Kisumu.
Sought-after constituents
As at December 2018, there were 25.4 million Kenyans aged 18 and above. This number is expected to surge by an additional four million by 2022, if you factor in those who reported they were aged 16 during the August 2019 census. Currently, there are 19.6 million registered voters. Counties in the Mount Kenya region will still have the lion's share of eligible voters in the next polls, making them one of the most sought-after constituents in the lead up to the 2022 elections. However, given the right stimuli, counties in Western may be the new titans in a political environment that has been dominated by voters from the former Central, Rift Valley and Nyanza provinces. An analysis of the recently released census data shows that by 2022, the country might have between three million and four million new voters, depending on how politicians running for different seats will convince the new adults to register and vote.
The Standard
shows that the region has not converted these numbers into votes. In Bungoma, only 74 per cent of eligible voters are registered; in Kakamega it is 79 per cent, in Busia 84 per cent, in Vihiga 91 per cent. Few registered voters, however, turn up on election day.
Heat up
Former Foreign Affairs Minister Amukowa Anangwe has attributed the voter apathy to voters in a given area not anticipating any change in the elections, adding that it is a global phenomenon. The race to succeed President Uhuru Kenyatta has already started to heat up, with Deputy President William Ruto and ODM leader Raila Odinga among those seen as being front runners.