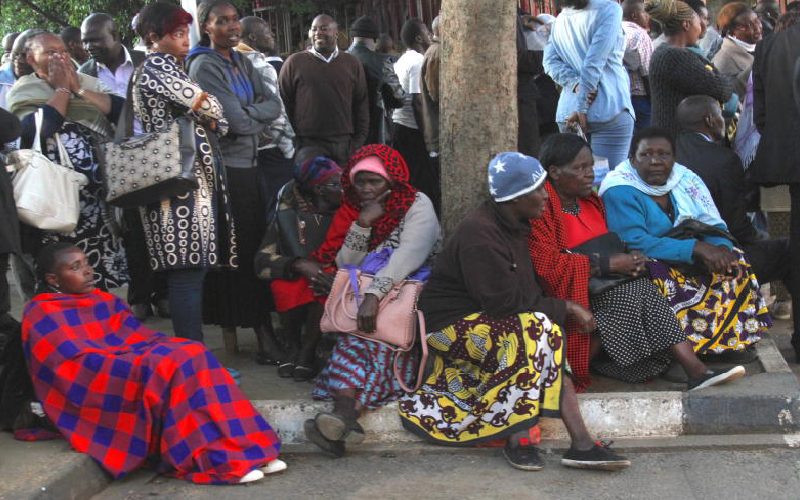 Nairobi
Tributes pour in for fallen Head of State ahead of today's funeral service.
Kenyans for the third day braved the scorching sun in long queues to pay their last respects to former President Daniel arap Moi. The final day of viewing Moi's body was yesterday. For the third day running, a military convoy made its way from the Lee Funeral Home to Parliament Buildings, where the body was to lie in state until 5pm. Although it was a working day, thousands of Kenyans from all walks of life left their busy schedules to honour Moi.
SEE ALSO: ODM: Handshake still intact
Mothers with small children strapped to their backs queued for hours to view the body. Being the last day, the viewing was extended to 6pm, from 5pm, to allow as many people as possible pay their last respects. Baringo Senator Gideon Moi mingled with the viewers, thanking them for standing with the family during this time of grief. Among those who viewed the body were former Vice President and Wiper Party leader Kalonzo Musyoka. The former vice president described Moi as a towering figure. Kalonzo said Moi held the country together at the height of military coups across Africa.
SEE ALSO: Gideon calls for more measures to safeguard commuters
"Mzee Moi was able to save the country from coups which were common among our neighbours. We were lucky not to have experienced a military rule courtesy of Mzee Moi," he said.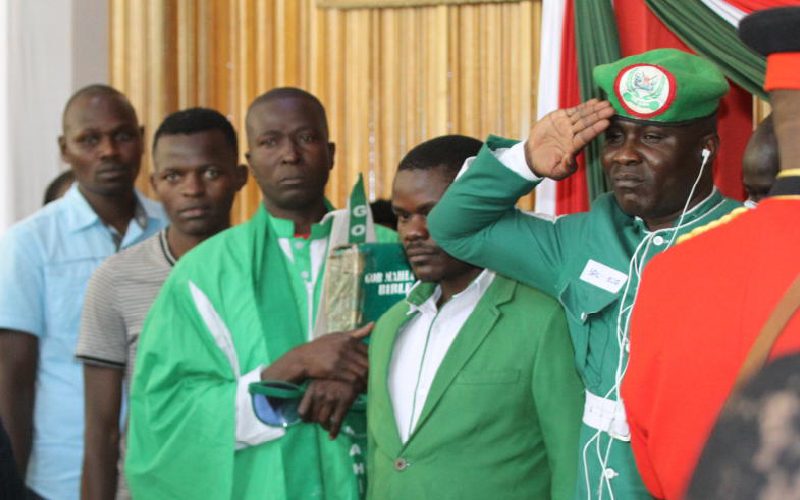 Kalonzo castigated Kenyans speaking ill of Moi's 24-year regime. "President Moi asked for forgiveness, when he handed over power in 2022," he said. In his eulogy, Kalonzo said the death of Moi touched every single citizen and was felt across Africa.
Loved peace
Kalonzo who had just landed from Addis Abba, Ethiopia, where he attended the Head of States summit as a special envoy on peace and stability to South Sudan, said African leaders were saddened by the death of Moi.
SEE ALSO: Gideon Moi: Give matatu crew hygiene training to fight coronavirus
"The African Union (AU) heads summit held a moment of silence yesterday. That shows you that the whole continent is mourning with us," he said. Chief Justice David Maraga also went to pay his last respects to Moi. Ford Kenya leader and Bungoma Senator Moses Wetang'ula led a group of MPs in viewing the body, and eulogised Moi as a person who loved education and expanded educational facilities across the country. Wetang'ula described the former President as a person who loved peace. "Mzee Moi loved peace to an extent that he dissolved his political party, the Kenya African Democratic Union (Kadu), to join Kanu to foster peace. His peace efforts were seen in Uganda, Ethiopia, Somalia, Democratic Republic of Congo and South Sudan among others," said Wetang'ula.
SEE ALSO: Gideon to host delegates from Central Kenya
Wetang'ula lauded Moi for overseeing a smooth transition in 2002. Accompanied by six legislators, Wetang'ula said Moi's love for peace extended beyond Kenya, noting that during his tenure Kenya sent its troops to Sierra Leone, Namibia, Ivory Coast, Yugoslavia and East Timor. Kimilili MP and National Assembly Deputy Minority Whip Chris Wamalwa eulogised Moi as a generous person who paid his school fees at Friends School Kamusinga. "He paid my school fees through a bursary when I was at Friends School Kamusinga. He was a humble person who never showed off," said Wamalwa. Deputy Governors Forum chairman John Mwaniki led his colleagues in viewing the body and eulogised the Moi as a person who loved education. He said Moi's style of leadership was so firm that the government could be felt across the country and called for more respect for the Head of State. "Let us tone down unnecessary bickering. The Head of State is a symbol of unity and people should respect him," said Mwaniki. Winnie Owiti of Voice of Salvation church, who was among the clerics who offered prayers for Moi, said the former President was a personal friend to her family. Mrs Owiti said in 1984, when her husband was involved in an accident along Naivasha road, Moi chartered a plane that transferred him to Nairobi where he got specialised treatment. He also paid her husband's hospital bills. "My husband first met Mzee Moi in 1972 during his evangelism work and they remained friends forever," she said. A good number of those who queued to view Moi's body said they remembered him for the school milk project that he initiated. "I will forever remember the milk because some of us were not rearing dairy cattle at home so we would look forward to going to school so that we could have the milk," said Anthony Maingi. "If it were not for Moi, you wouldn't know much about Baringo. He is a legend," said Alfred Kaptum, 45.
[Additional reporting by Gloria Aradi]