Nairobi
Tuju said the centre completed in 1973 for conference tourism and turned in 1989 as headquarters of the then ruling party, Kanu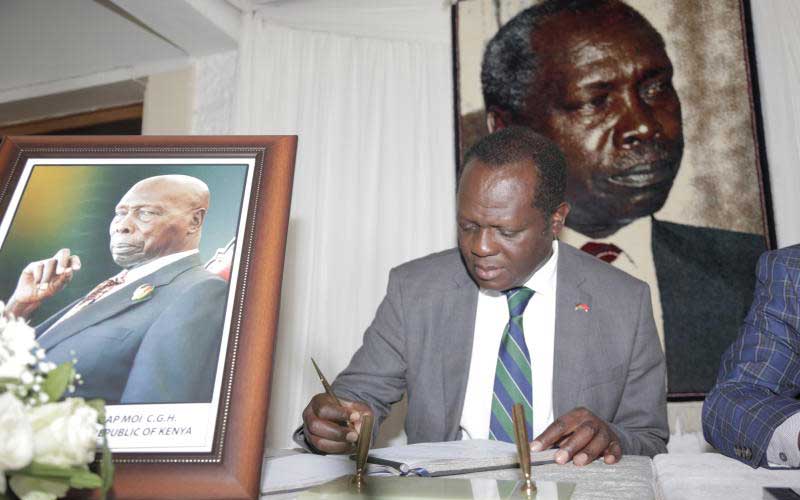 Jubilee Party Secretary General Raphael Tuju
(pictured)
has clarified that he did not repossess the Kenyatta International Convention Centre (KICC), Kenya's iconic landmark from Kanu. Instead, Tuju said the centre completed in 1973 for conference tourism and turned in 1989 as headquarters of the then ruling party, Kanu, had not been grabbed as popularly claimed. Tuju, however, said that it was not repossessed as the building had always belonged to the government.
SEE ALSO: Jubilee makes changes to key Senate teams
"It always belonged to the State and it was the government's decision to clear that fact. When you talk about repossessing, it would mean that it had been transferred. President Moi in his own wisdom never really transferred it to Kanu," he said. In February 2002 when the Kibaki government had just come into power, Tuju, then Tourism minister, had physically gone to KICC to repossess it as State property, a move that was so fiercely resisted by Kanu that police had to intervene. Speaking to Sunday Standard, he said the reason details of ownership were unclear was because there was a time Kenya was a one-party State during which there were few boundaries between what belonged to State and what belonged to ruling party. "The government and the ruling party were one and the same thing. Because Kanu headquarters was there, it was not quite clear who it belonged to. But if you look at all the development records of the KICC, you will find that there was a vote for its development from Treasury. It was a property which was registered as owned by the government," he said. The building has a government number (No. NRB/ADM/38/1) and it has a police station within the facility. It also has other security installations including government communication installations at the top.
SEE ALSO: Ruto allies removed from Senate committee chairmanships
"Former president Mwai Kibaki was the Minister of Finance at the time it was being constructed, so he knows how government used to allocate money every year for its construction. It is technically inaccurate to say it was repossessed because it was always owned by the government. It is only that Kanu had made it its headquarters," Tuju said.
Former glory
Phillip Kisia, who was hired as KICC's Managing Director by Kibaki's government in 2005 was brought in to restore the building to its former glory. He confirmed that the building was public property. "All public property is held in trust by Treasury on behalf of the people of Kenya. KICC is one of them," he said. Kisia said the building was an astoundingly visionary project when it was conceptualised. "It was very visionary because at that time, putting up a 28-storey building was difficult. With the conferencing facilities that it had, it was a great vision. It laid the foundation for conference tourism."