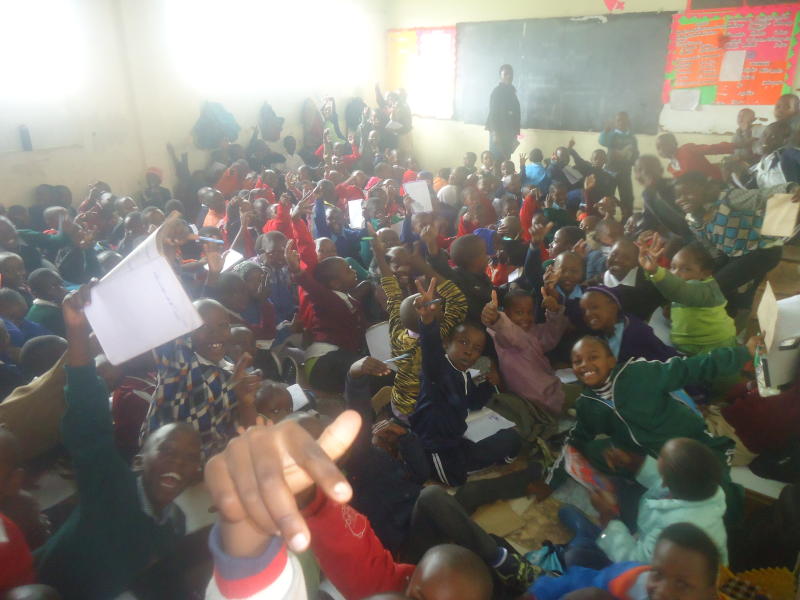 Crisis is looming at Nairobi's Mukuru Community Centre (MCC) Primary School due to congestion.
For years, the school in Embakasi South was operating as a private institution known as Goodrich Schools, admitting pupils from well-off families in Imara Daima Ward.
On January 6, the government handed it back to the community and rebranded MCC, leading to jostling for slots by children from the local community.
What was the upper primary unit of Goodrich Schools is where pupils of MCC are now sitting. A select committee consisting of community individuals is temporarily managing the school.
At the reception, the former school director and principals offices remain locked. "We only have access to the reception area. We need Gideon Kyalo wo was running Goodrich to take his items from the offices so we can use them," said Christopher Otieno, a committee member.
"By Thursday, 3,006 pupils had registered with us. We stopped admitting two weeks ago. We cannot take more due to space constraints. Majority of pupils that were going to neighbouring private academies but are now here," said Otieno.
For now, the classes are colourful, with pupils dressing in different types of uniform, some in civilian clothing.
"We are planning to hold talks with parents and other stakeholders to decide which uniform to adopt," said Otieno.
He said they are also waiting for direction from stakeholders on what fees to charge.
In one of the PPI classes we found three teachers, two marking books and one teaching a crowded class, with some pupils sitting on the bare floor.
Space and desks
"We need more space and desks. Some of the learners come from children's homes and private academies that were charging high fees and that is why we have this situation," said Otieno.
The exodus of pupils to MCC has left many nearby private academies with few or no pupils, with some closing down.
The school committee leader Maurice Omondi said they are requesting the Teachers Service Commission to consider employing only the headteacher, deputy and senior teachers, and get more teachers to volunteer.
Some of the Grade Four pupils, who are almost 1,000, are learning in the open. "Lack of infrastructure has been contributed by failure by Kyalo to take away his belongings. That is why you can see that the lower primary section is untouched; the classrooms have his stationery and other equipment intact," said Omondi.
Meanwhile, Goodrich Schools last week agreed to transfer children to a sister school in Kileleshwa.
This was agreed at a meeting between affected parents and Kyalo, the school's director last Friday. Those to be transferred to the Kileleshwa school, some 18 kilometres away, include pupils in the reception class and those in Standard Seven.
But some parents have questioned the cost of moving their children across town, saying it is tantamount to punishing them. Still, the big issue facing the school is refund of fees to parents.
Deputy Principal Dickson Musungu said parents have to be patient. "The process of refunds will be slow because we need to reconcile the accounts. Some goons vandalised our systems," he said.