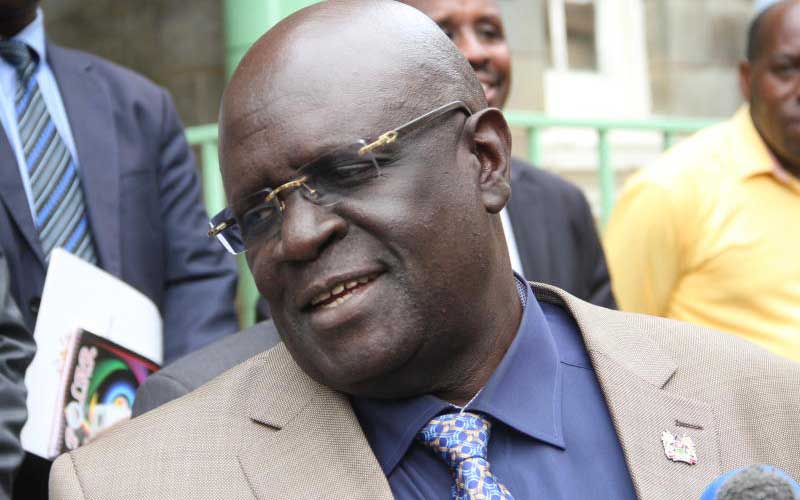 Education
By yesterday, about 20 per cent of the KCPE candidates had not joined secondary school
As the Form One admission window came to a close yesterday, some students were still at home with no hope of joining secondary school. Education Cabinet Secretary George Magoha
says 20 per cent of the students had not reported for Form One admission. While updating the country on the status of the 100 per cent transition, Prof Magoha said they had achieved a 80 per cent rate, with the number expected to rise. "Although these are commendable admission levels, it is projected that we could still have about 150,000 candidates who may not beat the deadline for reporting. These will include candidates of private schools and those who reported to schools they have not been selected for," he said. He said some of the reasons why students have not reported to Form One include the decision by some students to repeat Standard Eight, learners joining technical and vocational training institutions and early pregnancies.
SEE ALSO: 2019 KCSE candidates to know their courses and universities today
The CS said from today, the government will start a countrywide mop up exercise to trace all candidates yet to report to school. "I have consulted with the Ministry of Interior and the Teachers Service Commission and resolved to jointly engage in this campaign. Candidates at the sub-county level should report to the day school near them," he said. Even with these recommendations, headteachers have questioned the practicality of the exercise, saying the ministry has been telling parents to take their children to school, yet there is no communication on who will take care of their needs once they get to school. "Parents bring children and say that they have been told by the ministry that no child will be turned away. The ministry has not communicated to us who will pay for their needs, such as food, when they are in school," said the principal of a school in Meru. Other than school fees, the parents are supposed to buy personal effects, school uniforms that cost up to Sh20,000, bedding for those going to boarding schools and textbooks.
SEE ALSO: Magoha rules out schools reopening as virus cases rise
Caroline Ayuma, a parent, said when she got a calling letter admitting her daughter to Keveye Girls High School in Vihiga, it was a bittersweet moment. She was excited at the possibility of her girl Hope Vunzi breaking the cycle of poverty that her family has been entangled in for years. There was also the lingering sorrow that came with the reality that Hope might not join secondary school because they could barely raise enough money for food. "You look at the shopping list and the things you are supposed to buy, and the amount comes to almost Sh100,000. It shows you that secondary school is for the rich," said Ayuma. She said she had to sell some of her household items and borrow money but she still could not raise all the money needed. "Anyone who has taken a child to Form One knows that you need more than Sh50,000. The government says every child has to join but without money, no school can take you in," she said.
Denied entry
SEE ALSO: Schools may remain closed beyond June 4 - Magoha
Ayuma's sentiments were shared by many people both online and off the Internet who questioned the practicability of 100 per cent transition to secondary school that the Ministry of Education has been pushing for. "They say secondary school is free, yet they know that no school will take a child without school fees," says Sylvanus Oyier, who claimed that his son was denied entry at a school he had been called to. Social media was awash with images of stranded students who had been locked out for lack of school fees or part of the Form One admission requirements. News stories on children reaching out for help showed a fraction of the many more whose dreams will never take off due to financial constraints. According to the statistics by the ministry, Murang'a County is leading in the number of students who have reported. Tana River has the lowest percentage, with less than half the number of students expected to report getting admitted.
SEE ALSO: Magoha speaks on reopening of schools, national exams