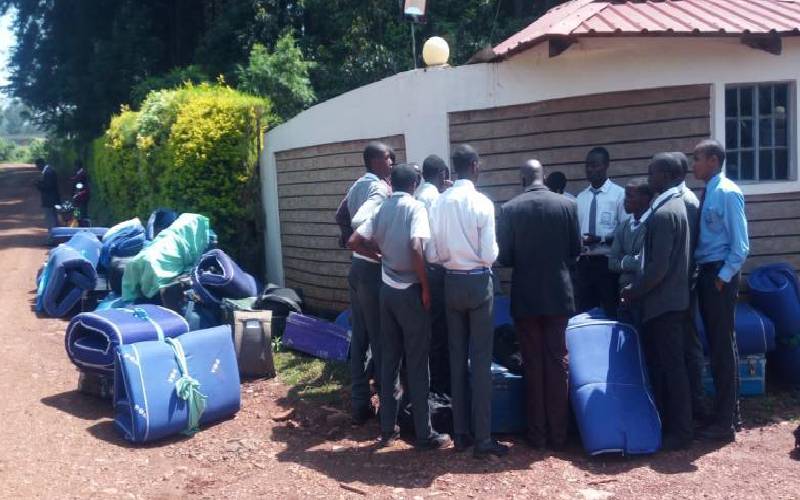 At least 17 students at Kabianga Boys High School have been suspended for refusing to sit exams on a Saturday. The national school in Kericho County hosts a number of students from the Seventh Day Adventist (SDA) denomination that observes Saturday as Sabbath day that is marked by religious activities and abstinence from work. Trouble started on Saturday when the 17 SDA students refused to sit scheduled chemistry and mathematics tests, arguing that writing the tests went against their faith.
Two-week suspension
SEE ALSO: Kitale SDA church defies order, holds service for second time
On Monday morning, the Form Four students were slapped with a two-week suspension by the principal, Dr Joash Oloo, on the grounds of "failing to write an assessment test offered on schedule." The suspension letters indicated that the 17 are to return to school on February 4 accompanied by their parents. Efforts by elders from the local SDA church to intervene in the matter failed, prompting the student's parents to seek the services of a lawyer. Yesterday, the students, through their lawyer, Julius Matonya, wrote to the school giving it seven days to unconditionally lift the suspension or face legal action. "The Constitution allows freedom of worship. Even the Education Act recognises the fact that every student must be allowed a day for worship which must be respected," wrote Mr Matonya.
SEE ALSO: Contractor and Kericho county staff charged over graft
But, the school's principal denied that the students had been expelled, claiming instead that the school administration simply wants to meet their parents. "In a situation where we are neither suspending nor expelling a student, we expect the parent to come over to the school so that we can engage," said Oloo. He further denied that the school violated the student's freedom of worship. "SDA students are exempted from any work on Saturdays between 8am and 6pm. They were to sit the test between 5am and 7.30am which does not interfere with this arrangement," said Oloo. The head teacher defended the tests, saying they had improved academic performance at the school.
SEE ALSO: Agencies on the spot over collapsed Kericho building, as boy, 7, dies
"Continuous assessment tests have improved our Kenya Certificate of Secondary Education examination performance from a mean score of 6.9 in 2018 to 7.7 in 2019," he said. This is not the first time the church is on collision course with schools over teaching and learning on Saturdays.
Church petition
In 2012, the church petitioned the government to compel some 23 secondary schools to exempt SDA students from weekend classes. In 2013, High Court Judge Justice Isaac Lenaola directed all public secondary schools to exempt all students, who are SDA faithful, from weekend classes, ruling that this was not only a constitutional right to the students, but also respect for the freedom of worship.