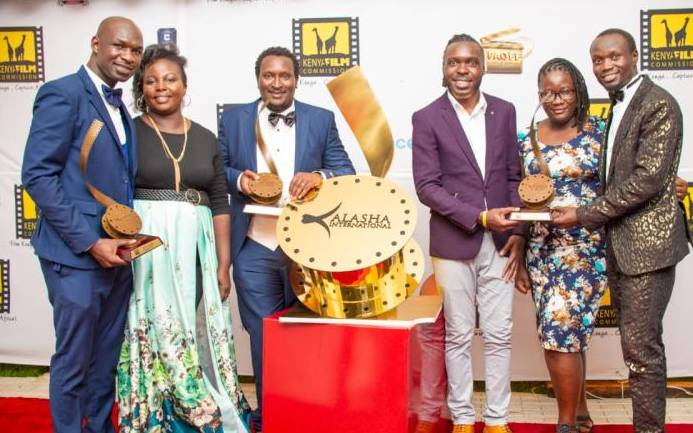 Arts & Culture
TV series, short and lengthy films feature high on producer's agenda for next year.
The year 2019 concludes with success for Kenyan film
Lost in Time.
To the surprise of its executive producer Jimmy Gor and the entire crew, the film won five Kalasha awards, including the best feature film, best director (Peter Kawa), best actor in the film (George Mo), best screenplay (Edijoe Mwaniki) and best sound design (Karanja Kiarie). The film is now screening at the refurbished Nairobi Cinema. The screening started on Thursday and will conclude tomorrow (Sunday). It was first premiered on October 24 and has since had nine screenings at the Anga Cinema in Parklands, Nairobi. "We took it to Kisumu (Mega Cinemas) last week on Saturday and planned for a Festive Season Theatre run at the refurbished Nairobi Cinema courtesy of the Kenya Film Classification Board (KFCB) between December 26-29," revealed the film's executive producer. "Next year we are hoping to do a tour around the country. We are currently in talks with KFCB which hosted the Kalasha Film and Media Awards where we won big this year." Gor says the win in the Kalasha fete signified the positive reception of the theme of mental health, a new concept in the Kenyan film industry. "God's favour overall. Imagine this was our first feature film to produce, for Mwaniki to write and for Kawa to direct? Despite all the work we put in, it was God all the way," said a beaming Gor. The film's storyline was interestingly captivating considering the sensitive theme of mental health, he said. The story revolves around Sam, a 33-year-old who becomes paranoid after almost losing his six year old daughter during his mother's memorial service. He becomes a captive of fear as he struggles with an obsession of protecting her daughter. His paranoia makes him suspicious of strange activities at his neighbour's house. He is right. Someone is being held hostage but Sam's attempt to rescue the victim is faced with another challenge. Lilian, a 42-year-old anti-social character and her accomplice Michael complicate the rescue operation. He is also haunted by memories of the near death experience of his daughter which obscure his rescue plans. Popularity "We did our homework and settled on mental health and with the determined team, we did awesome work despite the little resources at our disposal," said Gor. With all the accolades they have received, the people behind it are focused on shoring up its popularity. "Our energy is currently directed to pushing the film to the audience as we get into 2020. There will be more screenings, festivals locally and internationally," Gor said. For 2020, the FilmLab Kenya plans to roll out other projects. TV series as well as short and lengthy films feature highly in their agenda. "As part of our vision, we also commit to train and equip upcoming film makers on different aspects of film production," he said. The company has been engaging in similar projects in the past, including the programme dubbed 'Made', an acronym for Media and Arts Discipleship Engagement, which started in May. "We have done many short films, most of which have been used in churches and community for an under a programme called Films for Social Responsibility (Film4SR). We are currently working on a TV series that will be one of our main projects next year," Gor said. At the cinema, the screening of Lost in Time attracted hundreds of fans eager to catch a glimpse as action unveils.