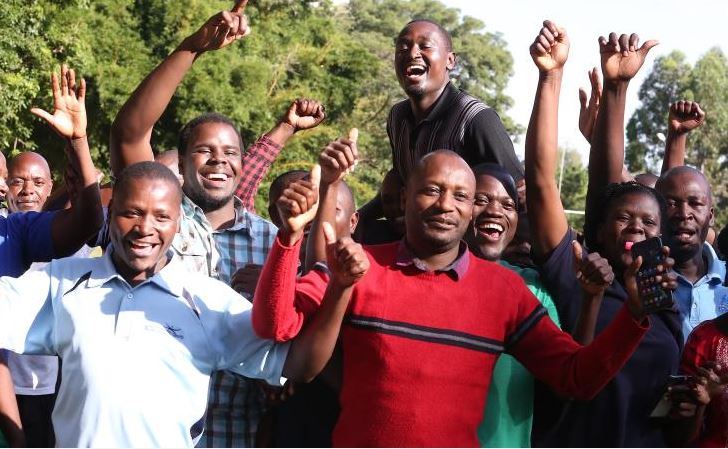 Nyanza
Teachers attribute good performance to change of teaching strategy and discipline of students.
Nyanza's academic top guns — Maseno, Maranda and Kisii high schools — were the toast of the region yesterday after recording good performance in this year's Kenya Certificate of Secondary Education (KCSE) exams. Maseno National School, once a national academic giant, powered its way back into the hall of fame after it grabbed position seven among the top ten schools with the highest number of As. The school had 23 straight As, a rare feat after a long lull. Maranda, which appeared to have slipped from its traditional top ten positions in previous exams, was consoled by one of its candidate, Kore Ruto, who was ranked among the best ten underage best performers with an A. Maranda has in the past years been riding as the best performer in Nyanza until Maseno woke up to overtake it. This year, they recorded 19 plain As and 42 A-. Maranda principal Edwin Nemachanja said the school had not performed to its expectation because of the high number of candidates it had registered. "We had a record 705 candidates. It is very difficult to get to the top because of the large number of candidates," said Mr Namachanga. He added: "We expected to be among the best. Last year, we had a candidate in the Top Ten best performers. We will give a comprehensive analysis after getting all the results." Nemachanja won the Principal of the Year (POYA) award, Nyanza region in May this year. In Kisii County, Kisii High School worked its way to the top once again after its candidate, Kansa Luca, was listed among the top ten performers under the special needs category. He got an A-. In 2018, Nyanza had 18 candidates in the national top 100, in what educations analysts said was a good improvement, given the high competition and that the region was one of the worst-hit by student unrests in which over 20 schools lost dormitories in mysterious fires. Yesterday, Maseno School principal Andrew Buop was excited with the outcome. "I am happy Maseno is back on top. Our strategies had worked. We went into the exams prepared to get the best. The class was good and they have made us proud. We are already focused on 2020," said Mr Buop. He added: We had good, disciplined students; a dedicated staff, a committed Board of Management and supportive government officials. For us, this is just the beginning of better things at Maseno." At Maseno, teachers and a few parents were following proceedings during the release of the exam results. The school also produced the best candidate in Nyanza, Anthony Owuor, who was fourth nationally. The school's deputy head Peter Nyawach who led the celebrations attributed the improvement to change of strategy. "This year we managed to clear the syllabus early, giving us enough time to revise," said Mr Nyawach. Nyawach also acknowledged discipline and hard work exhibited by the candidates that worked in their favour. "This was one of the best classes we have had in the recent past and we expected our students to perform well. We are glad that they met our expectations," he said.
Best student
And the best student in the school, Anthony Ochieng, was in his Asego village in Homa Bay County when the results were announced. The elated Ochieng rushed to Homa Bay Catholic Cathedral immediately his name was mentioned by Education Cabinet Secretary Prof George Magoha. The firstborn in a family of three attributed his good performance to hard work and focus. "I had expected to do well, but because of the high competition, I did not expect to get to this level," he said. Ochieng who wants to be a doctor has been a good performer and scored 425 marks in Kenya Certificate of Primary Education (KCSE) four years ago. He said his mother was his greatest motivation, leading in prayers and encouragement. "My mum dropped out of secondary school at some point and struggled to join the university later. I wanted to make her proud," he said. The 17-year-old wants to study at Harvard University on top of priesthood which he wishes to enrol for, soon. His mother Vera Amondi was overwhelmed with joy as she celebrated the boy's performance. "This is my firstborn son and I don't know how to reward him for the pride he has brought to my family," said the Kiswahili and CRE teacher at Got Kado Mixed Secondary School. Little-known schools in Nyanza also registered good academic performance. Sega Township in Ugenya, Siaya County, is among the small schools that upset giants in the county. The school had four A- with over 20 students scoring university entry grade C+ and above. Among the leading students included Christine Atieno (A-), Genga Ezekiel (A-), Stephen Onyango (A-) and Elias Otieno (A-). At Chulaimbo Secondary school, there were celebrations after it registered A- minus for the first time in three years. It got four A-. Oduopr Davis and Onyango David Michael put the school on the academic map after they registered an A-.