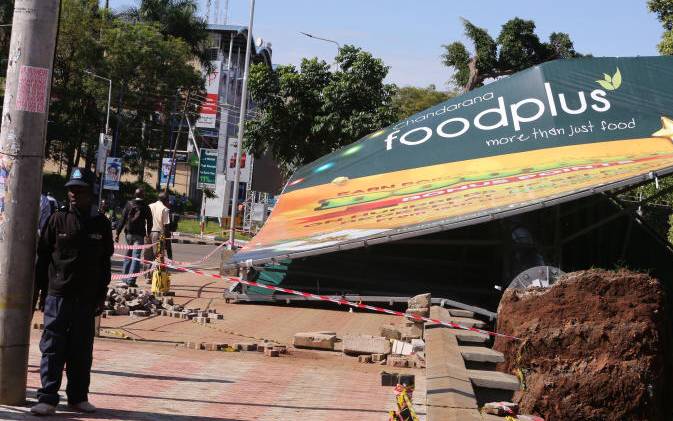 Nyanza
Most of the affected offices, malls and supermarkets, were forced to incur extra costs by using generators.
Kisumu Town and its environs suffered massive power outage that lasted more than 16 hours after a storm felled electricity poles, ripped off billboards and uprooted trees. The town was plunged into darkness shortly after 6.30 pm on Monday following a heavy downpour, which Kenya Power officials said damaged transformers and uprooted polls. Power had not been restored by 2 pm today. Most of the affected offices, malls and supermarkets, were forced to incur extra costs by using generators. The heavy downpour also worsened the woes of victims already displaced by foods in Nyando, Kolwa, and Seme.
SEE ALSO: Every day's a Sunday as Kenya's power demand drops
Areas worst hit by the storm included the slums of Kondele, Obuga, Nyamasaria, Nyalenda, and the CBD. Kenya Power confirmed that the storm destroyed three lines supplying power which cut off power in the affected areas. The town was cut off power for more than 16 hours. Daniel Okumu, who is in charge of operations and maintenance at Kenya Power in Kisumu said they were trying to restore the power in the affected area. "We have been hit but by the end of the day we will have the power supply in the affected areas," said Okumu.
SEE ALSO: Jason Derulo chips his teeth by trying to eat maize on the cob off a drill
Okumu reported that three poles were brought down and the billboards that were brought down by the storm affected two high voltage transformers. The first line that was affected was one that supplies power at Jaramogi Oginga Odinga Teaching and Referral Hospital, Robert Ouko and Ondiek estates and part of the CBD. The second line affected Manyatta area and nearby slums while the third line cut off power in Kano area. Mary Anyango who operates a cybercafé in Nyalenda said she was forced to close her business on Monday evening and better part of Tuesday due to lack of power. "I normally work late but with the sudden blackout I had to close and go home," said Anyango.
SEE ALSO: Adult film star and Trump accuser returns as comic book hero
She hoped that Kenya Power would fix the damage and resume power supply. Close to her was James Omondi who operates a barbershop according to him, he has undergone major losses for not operating his business by midday today. Business security guards said it was hard to keep watch of premises without light given that most CCTV cameras were off. "It was scary having to spend the entire night without power. It made work very difficult," said Calvins Ouma, a night guard in town.