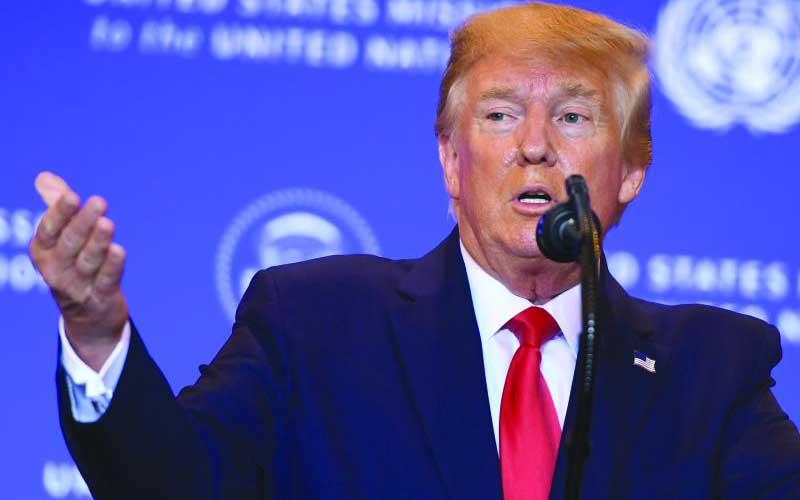 President Donald Trump (pictured) risked isolation after a 'rebel' US delegation turned up at the Madrid climate talks ignoring his recent notice to withdraw from the UN-led process.
Riding on the "we are still in" slogan, a coalition of mayors, philanthropists, faith leaders, scholars and researchers pitched tent at Ifema - Feria de in Madrid, Spain, the venue of the talks, set up a pavilion, fielded questions and made presentations.
The bullish group, which accuses Trump's administration of mutilating pro-environment federal laws, said most American policy and business leaders support a coordinated global climate action plan under the UN.
It emerged that state attorney generals, including New Jersey's Gurbir Grewal, were working to legally challenge Trump's bid to withdraw the US from the 2016 Paris Agreement, which seeks to reduce greenhouse gas emission.
After succeeding President Barack Obama in 2016, Trump dismissed climate change as a hoax and an attempt by poor countries and middle level economies to arm-twist the US into meeting "skewed" obligations.
Largely shunned
Ever since he signaled his desire to withdraw from the climate change talks, US subnational and non-state actors have filled in the gap, turning up at major international meetings largely shunned by the White House and federal government.
US House of Representatives Speaker Nancy Pelosi pledged, to the climate change summit, that Congress would urgently tackle global warming despite Trump's opposition to the pact.
"By coming here we want to say to everyone we are still in, the US is still in," Pelosi told reporters on the first day of the two-week talks on Monday last week.
On November 4, US Secretary of State Mike Pompeo announced they had formally begun the process of withdrawal, marking the beginning of a year-long countdown to pull out.
Yesterday, the coalition of US states, cities, and businesses representing more than 3,500 major actors, who together represent nearly two-thirds of the US population, said they would not ditch the Paris agreement.
"It's not a matter of debate. We will tag along with other concerned parties to push the climate agenda," David Joness, a climate lobbyist, said.
At the busy US Climate Action Center at the COP25 venue, the coalition's members shared their personal stories of climate impacts. US government delegation offices had less activity, with a pinned notice asking visitors to email their inquiries.