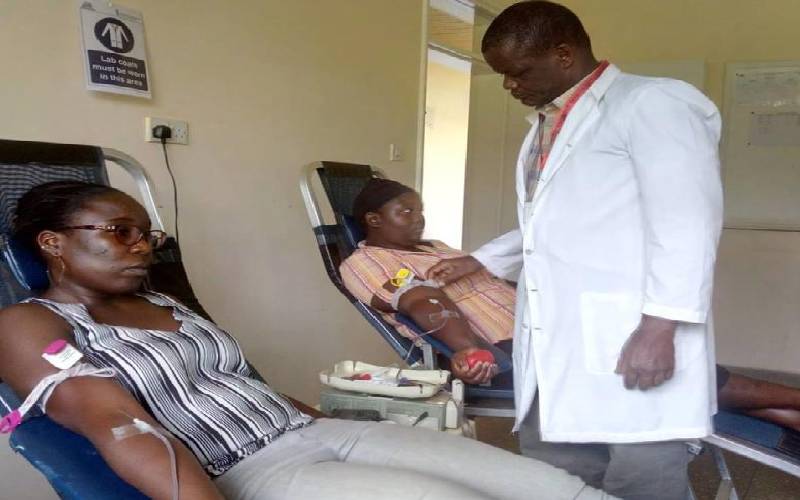 The blood shortage in hospitals in Nyanza has worsened, with several hospitals reporting that they have depleted their stocks. The regional blood bank in Kisumu was yet to receive any supplies and is unable to appeal for more blood donations, since it has run out of blood bags and other testing tools and reagents. So dire is the situation that the little blood that was donated last week at the regional bank has been ferried to Nairobi for screening before being returned to Kisumu for use. The crisis at the blood bank has been attributed to the US government withdrawing funding from the country's blood-related services.
SEE ALSO: Health workers lock horns with Governor Nyong'o
Officials at the blood bank said between 2014 and 2015 staff were laid off, following the withdrawal of Emergency Plan for Aids Relief (Pepfar) fund. Only 13 employees remained at the facility. "We don't have drivers and other staff who are key in facilitating blood donations. The few staff remaining are so demoralised," said an official. Kisumu County Hospital acting medical superintendent Thaddeus Massawa confirmed the facility is overstretched. "For those who need platelets, we are referring them to Moi Teaching and Referral Hospital. The situations is bad," said Dr Massawa. Jaramogi Oginga Odinga Teaching and Referral Hospital CEO Peter Okoth said they are doing all they can to save lives.
SEE ALSO: Policewoman held for shooting husband after domestic quarrel
"The crisis has made it hard to carry out some surgeries. We encourage people to donate blood," Dr Okoth said. Only private hospitals are reported to have blood stocks. At Avenue Hospital, Vicky Okoth, an administrator, said they have been hit by blood shortage but the facility is lucky to have a mini blood bank, where they carry out screening before transfusion. "We get blood from the relatives of surgical patients and we carry out screening before transfusion," said Okoth. However, she said the facility majorly relies on the regional blood bank and it is only a matter of time before it runs out of blood supply. For 15 years, the national government depended on Pepfar to facilitate blood services.