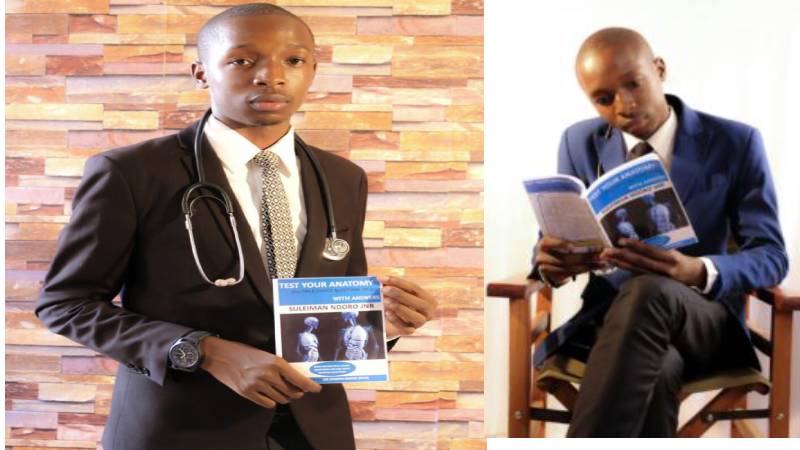 This week's episode of Standard Digital Videos'
Untold Story
features Kenya's youngest medical author Suleiman Ndoro alias "Dr" Audi. He calls himself Audi because of his fascination with the four-ring Audi cars logo. He is 24-years-old and he has published 26 books – a most of them on medicine. Audi is fired by the desire to transform Kenya's healthcare through his books. It was during his final year at the Jomo Kenyatta University of Science and Technology (KUAT) where he was studying clinical medicine when made his writing debut. [A degree in clinical medicine does not earn one the Title Doctor (of medicine)] A first-year student approached him for revision questions in the field of anatomy but unfortunately, according to Audi, there were none. "It is true in our times, there were no revision questions. Anatomy was my best field so I started compiling questions and after compiling the questions I ended up with a whole book," he said. He titled the book
Test your anatomy Q &A.
Still, in his final year of study, Audi proceeded to publish fourteen more medical revision books. How did he do that? "During our final year, there was a long strike of doctors. It lasted for like a hundred days so we were free and I used that time accordingly." Audi notes that his friends helped in writing eight of the fourteen books.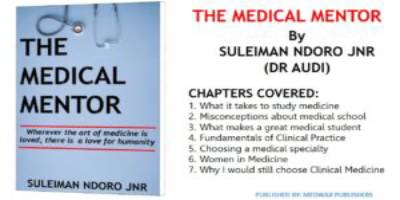 Other medical books he published are
Test your Anatomy Essay Revision Questions
and
The Medical Mentor.
After school, Dr Audi who spent five years to pursue a clinical medicine degree, embarked into full-time writing. He has never set foot in any hospital to practise clinical medicine because he believes writing is his calling. However, he does not entirely rule out the chances to working as a clinical officer. "I could work but for now I have deferred a bit. I was supposed to be in an internship but I have deferred for a whole year to concentrate on writing." Since graduating, Audi has published 11 more books but most of his post-campus works have been motivational books. "I came up with motivational books so that I can connect with those who are not in the medical field." One of his motivational books that he speaks highly of is called
Life lessons that clinical medicine taught me.
In the book, he illustrates how people can shape their lives by borrowing a leaf through from the clinical medicine chalk talk. Other motivational books he published include
Kenya's self-made billionaires, Success secrets from Kenya's politics,
among others.