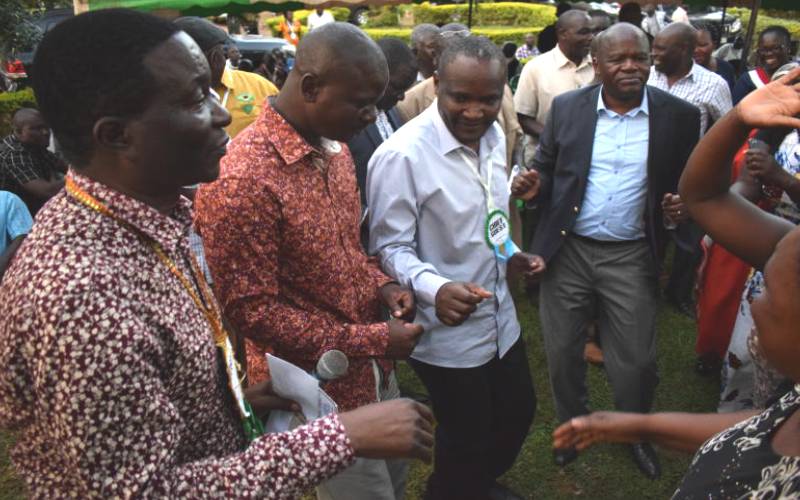 Nyanza
Leader raise Sh1.2 million for a local jua kali youth group, urge youth to embrace the sector
Political leaders have urged the youth to venture into and embrace the jua kali sector to tame runaway unemployment. Speaking in Oyugis town, Kasipul constituency on Sunday when they raised Sh1.2 million in support of a local enterprise, Oyugis Central Jua kali Shade Entrepreneurs, the leaders said it is only the jua kali skills that the youth will be self-reliant. Led by host MP Ong'ondo Were, Suba South MP John Mbadi, their Kitutu Masaba counterpart Shadrack Mose and Lake Basin Development Authority (LBDA) Chairman Odoyo Owidi the leaders said jua kali sector is the only way to create jobs for the many unemployed youth. Mbadi said technological skills, once acquired, will enable the youth to earn a living instead of waiting for the scarce white-collar jobs.
SEE ALSO: Improved output can beat Covid-19
"The population keeps growing in Kenya and not all young people can secure jobs in offices. Jua kali is a vital sector that should not be ignored by young people," said Mbadi. On his part, Were urged the youth to shun negative attitude towards jua kali skills, saying the sector is employing thousands across the country. Were maintained that it the jua kali sector that will transform the society and improve the country's economy. "Some of the items manufactured through Jua kali skills are subsequently sold to generate income. Let people exploit their talents through the sector," said Were.
Bursary increment
SEE ALSO: To save our economy, State must trim fat
The MP said his main agenda has been to empower the youth, saying it is only a serious youth empowerment plan that will improve the lives of common people. He said plans are underway to increase the amount of bursary given to students in schools and colleges in realising his youth empowerment plan. "My office is keen on empowering youths, that is why we are going to increase bursary for students in this constituency," said Were. According to Mose, jua kali should not be viewed by youths as a sector meant for academic failures. He urged parents to take register their sons in technical training institutions to enhance their skills.
SEE ALSO: Awful data show US economy is in deep trouble
Youth training
"Let parents encourage their children including those with Form Four certificates to join technical training institutions," said Mose. Mr Owidi said the LBDA will support the sector by sending field officers to train artisan groups on how to maximise their output. "Being a source of economic development, the LBDA will help jua kali groups on how they can access different services which can enhance their livelihood," said Owidi. He told artisans to register in groups to improve their chances of getting access to different opportunities.
SEE ALSO: Gogo urges jobless youth to enrol in World Bank training programme
According to the Kenya Economic Survey 2019, unemployment stood at 9.3 per cent with the GDP at 8.59 trillion.